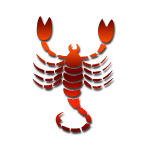 Health: As per Scorpio Horoscope 2019, you will have to take extra care of your health this year. Any careless might cost your dearly in the long run. To avoid any physical illness, exercise on a regular basis and maintain an active lifestyle. Add healthy practices like Yoga, meditation, exercise, running, morning walk, gym etc to your daily schedule. Become active and give up laziness. Try to wake up early and go to bed early. Avoid heavy meals in the nighttime. Have a balanced diet and stay away from oily or junk food as much as you can. Always remember that health is wealth. You should be extra careful of your health in the beginning of the year. According to the horoscope 2019, the months of February and March are not quite favorable for your health and you might get few illnesses during this period. Your health will slightly improve in the month of April. But again, you will face few health issues in the months of May and June. The months of October and November will also be sensitive in terms of health and well-being. You might get illnesses like common cold, fever or swellings during this period. Your overall body immunity might also drop during this time. Hence, in case of any health problem, consult a medical practitioner as soon as you can. Ignoring any ailment or illness might cause serious health hazards in the longer run.

Career: You will do well in career or profession this year. The time is favorable for your job or business; hence, you will make significant progress. You will put in extra efforts to progress in career. This will open a lot of new doors for further growth. You might get a new job offer at a prestigious company. You will get an opportunity to travel abroad for business or work. If you make the best use of these opportunities, then you can make significant progress in career. You might make a remarkable achievement in career in the months of April or May. You might get a promotion or a handsome salary hike during this period. Your career will make strides in the month of August and September. You will enjoy full support from the seniors at work, and they will appreciate your good work and new ideas. Don't trust your colleagues too much, as they might try to harm your professional image out of jealousy. They might also try to take credit for your hard work and ideas, so you must be careful. You might expect a job transfer in the beginning of the year. Stay away from office politics or gossip as much as you can, and try to focus on work only. Follow the instructions and guidelines as laid down by your seniors, and fulfill your responsibilities in a timely manner. The year will be excellent for students and they will perform really well in studies. You will work really hard and get desired results in examinations. Your teachers or professors will be pleased with your good performance and provide you support and guidance whenever you need it. The situations will be favorable for studies throughout the year, especially in the months of February and March. If you are preparing for any competitive examinations, then you will get success during this period. If you wish to get better results in studies, then you will have to put in more efforts. If you are appearing for board exams, then you are likely to perform well and get excellent grades. In addition to studies, you will also devote ample time to extracurricular activities. As per predictions for Scorpio zodiac sign, you might enroll in a diploma or certificate course in your free time. If you are a language student, then you are likely to get desired results. The students of tourism and management courses will get great opportunities for career advancement. If you are preparing for medical or engineering entrance exams, then you need to get more focus towards your studies. Work on your concentration and avoid distractions as much as you can.

Love/Marriage/Personal Relations: The year will be great for your love life. You will share a lot of romantic moments with your partner and your relationship will grow stronger. If you are still unmarried, then you might finally get married this year. If you wish to share your feelings with the partner, then you must go ahead and do it. Your mutual respect and understanding will grow. You might plan a vacation to a romantic destination or take your partner on long drives. You will enjoy a lot of good time together. You will go for movies, shopping or dinner together. You might exchange beautiful and romantic gifts with each other, especially in the month of February. As per predictions for Scorpio zodiac sign, the times will be favorable in the month of April and May. On the other hand, the months of January or March might not be too favorable for your love life. Few misunderstandings or disagreements might arise between you and your partner, which might lead to arguments. Always trust your partner, and don't force your views on her or him. Resolve any issues in an amicable manner. Any small misunderstanding can cause a serious dent in your relationship. If you are newly involved in a relationship, then have patience and don't try to rush up things. Your marriage life will be peaceful and harmonious this year. Although minor conflicts or disputes might arise sometimes, your love and understanding for each other will prevail. You will complement and support each other in all crucial matters. Sometimes few misunderstandings might take place, but you should try to sort out issues through mutual discussion. The spouse might experience some health issues, which can make you stressed or disturbed. Instead of getting stressed, try to take care of her or him, and provide the necessary support or treatment. The children will respect and support you always. Your love for them will also increase. As per predictions for Scorpio zodiac sign, you will spend enough time with the children and they will progress in career or profession. They might also travel abroad for work or studies. Sometimes, you might not be able to spend enough time with the family due to hectic work-life. Hence, you must try to maintain a healthy work-life balance. You might have to stay away from the family for work for some time. If you wish to improve your relationship with the spouse, then you must learn to respect her or his feelings and point of view. Look after her or his day-to-day needs or requirements. If there is any conflict, try to resolve it peacefully. Don't mistrust your spouse, and always have trust in her.

Advice: In the year 2019, you should follow the below remedies to get rid of various types of troubles and attain good results: 1. Apply saffron tilak on your navel, neck, both ears, head and tongue daily. 2. Offer wheat granules to fishes and give away seven dried coconut leaves in flowing water on Wednesday evening. 3. Regularly worship Mother Durga and recite Durga Chalisa.

General: According to Scorpio Horoscope 2019, the year is going to bring a lot of happiness and prosperity to you. You will get new opportunities in career and your financial position will get stronger. Your career will flourish, and those in job or business will get plenty of new opportunities for growth and development. You might get an exciting job offer, or get a chance to travel abroad for work or business. The months of August and September will be especially favorable in terms of career growth. The financial life will be better than expected, but you might experience few ups and downs sometimes. You might tend to spend more than your income, which might create some financial strain. So you must monitor your expenses and ensure not to spend more than required. You will get excellent results in education. You will work hard and get the desired results in examinations. If you are studying any new language, then you will get several new opportunities. Students of management and tourism studies will get several new opportunities for career growth and development. If you are unmarried, then the prospects of love marriage are high. As per predictions for Scorpio zodiac sign, you might spend some precious moments with the love partner. If we speak about your family life, then you will handle all your family responsibilities in a responsible manner. The family will have a lot of expectations from you. Don't betray their trust and never let them down.

Finance: According to Scorpio Horoscope 2019, You will get mixed results in terms of financial life. You might experience few ups and downs on the financial front. There will be a huge gap between your income and expenditure. Your expenses might go up while your income might remain static. Hence, you must control your expenses as against the income, to avoid any financial crisis in the future. You might overspend on luxury items or entertainment products. You might make some financial gain in the month of March and April. You will be able to save money during this period, and in September, you can expect a sudden gain of money. If you have been fighting a court case related to family property, then the result is likely to be in your favor. You might make some unexpected gain of money, but you should be careful as to how to spend it. Don't indulge in spurious or illegal acts to make quick money. There might be a time in the year when you will find it difficult to make ends meet. During these tough times, you will try to borrow money from someone. Hence, to avoid any such financial meltdown, try to control your expenses and save money for the future. A property related issue might crop up this year.

Family & Friends: Your family life will be peaceful and harmonious this year, according to Scorpio Horoscope 2019. You will share good rapport with the family members. There will be an expansion of ancestral property. There will be peace and prosperity in the family. The family members will do well in their respective spheres in life and they will share mutual understanding with each other. You might buy a new house or vehicle this year. Some family members might experience some health problems. Also, few problems or disputes might arise with the siblings. Try to help each other in tough times. You will realize all your family responsibilities, and succeed in fulfilling them. This is why the family will have huge expectations from you. Try to come up to their expectations and not do anything that would harm their social reputation. Your children will do well in studies or career, and you will be mostly satisfied with their progress. Few religious ceremonies like marriage, Havan or puja might take place in the family. There might be an addition of new family member. Always respect your elders and take their blessings and support in all crucial matters.