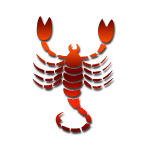 Health: You are advised to be cautious about your health status. Being nonchalant about your well being is likely to get you entwined in problems. Beware of physical injuries. You should adopt safety measures while being on the road. There are chances of blood related issues occuring. Eat well and exercise regularly to keep yourself fit and fine.

Love/Marriage/Personal Relations: The planetary positions predict that you will have a romantic relationship with your loved one during this month. You will care about each other and will support each other through thick and thin. Your love will grow by leaps and bounds and you will develop a strong bond with your partner. The people who are single and want to confess their love to their intended will get the chance to do so. Wait for a perfect moment and propose them with a surprise present. Existing couples will find time to spend with each other. You may go out for a movie with your partner. Spending time with your partner will deepen your bond of love. You may expect support and motivation from your beloved at each point of your life. Trust, loyalty, and respect will be the foundation of your relationship. You will pour your heart out to your partner. Your feelings will be reciprocated. A third person may try to create a rift between you and your love partner. Do not let anyone succeed in their motive of ruining your relationship. Maintain active communication with your partner. If any kind of confusion crops up, you should fix it as soon as possible. Those who are married may face some problems in their conjugal life. Your relationship with your partner will be prone to some high and low phases. There will be heated arguments that will not be easy to cope up with. However, you are advised to be calm during such situations. Try to figure out the crux of the matter and get a solution to the problems. Quarrels and arguments will only spoil your relationship with your partner. Avoid them as much as possible.

Advice: You should visit the temple of Lord Hanuman and worship him on Tuesdays. Recite Hanuman Chalisa regularly. You should also recite Sunderkand as much as possible. This will help you to get rid of your difficulties. Donating red colored objects on Tuesdays will pave your way to success.

General: During the time of this month, you will be a powerhouse of energy. You will be packed with courage and self-confidence. There may be times when your overconfidence will lead you to problems. Thus, you should be careful to demarcate your self-confidence and overconfidence as well. You will be punctual and will manage your time well. There are chances that your mind will waver in various directions and thus, you will have a hard time concentrating on your goals. Try to focus and involve yourself in meditation and Yoga. This will help you to develop a better concentration power. Bad company will end up tainting your reputation in the society. Hence, you should make sure to stay away from such people. Avoid setting your foot on unnecessary journeys as they will not only exhaust you but will also put a strain on your pocket. As far as your personal relationships are concerned, you will be able to handle them with ease. You will have the support of your friends in times of need. There are fair chances of gaining benefits in matters related to land and property. Your efforts will help you pave your way to success. Recognition and respect will be earned in the society. You might as well get a promotion at your workplace. You will be a social butterfly and will be a part of societal gatherings during the span of this month. At the same time, you will have the confidence to make your own decisions and define your own path to success. However, you should also consider the opinions of your well-wishers and your kinsmen. You may purchase a new vehicle. The transit of the planet Saturn in the Zodiac Sign Sagittarius will be favourable for acquiring a new means of transport and buying a new piece of land. If you are interested in politics and want to make it your profession, you may succeed in doing so. Your opponents may try to harm you. Hence, you should be wary of them. Your children will not cause you any worries during this month. Love life will remain propitious. You may get blessed with a child. Stay away from conflicts and arguments. Travelling abroad will yield fruitful results. You are advised to control your temper, otherwise, you may end up disrupting your marital harmony. You might have conflicts with your partner due to differences of opinion. Your business will flourish. Luck will favour you and this will increase your chances of getting success. Financial gains are on the cards. Do not make your decisions in haste. You are strongly recommended to prioritise your health. Think well so that you do not end up repenting your actions later. The 3rd, 4th, 12th, 13th, 22nd, and 23rd of this month may prove to be difficult for you to cope up with. Problems will surface up, which you will be required to deal with patience and maturity.

Finance: You will have a sound financial status during this month. The transit of the planet Mercury and the luminary Sun will pan out to be favourable for you in economic matters. You will reap the fruits of your labour. The best should be given in whatever task you do. Monetary gains will fall into your lap. Befriending new people will help you in your career. Avoid performing your tasks in haste. Keep your temper in check, otherwise, it might tarnish your image at your workplace. Respect your seniors and exhibit a cooperative attitude with your colleagues and juniors. Teamwork will help you to achieve your organizational objectives. You will enjoy a good position and status. Your hard work and efforts will be recognised and rewarded. Incentives, bonuses, etc. may add to your income. Spend your money carefully and do not indulge in extravagance. If you have been planning to make an investment, you can do it in this month. This will help you to save some grants for the future. You will be able to accumulate wealth. You will have a number of opportunities that will bring about a drastic change in your professional life and financial status. Do not get entangled in conflicts. Maintain a calm demeanor. Be careful in financial transactions. Avoid lending money to others. Make sure that all your transactions are legal in nature.

Family & Friends: Your family life will be stable during this month. There will be coordination and cooperation among your family members. Your parents will play an important role in your family. They will be the guiding force who will always instruct you when needed. Their experience will help you sail through difficulties. These blessings will help you to achieve success. It will be your responsibility to take care of them and cater to their needs. Make sure that they eat well. Do not get involved with negative people as they will lower down your confidence. Keep away from bad company. Help your siblings as and when necessary. They will be your support system and stand by you through thick and thin. There will be times at which you will be required to sacrifice your own comforts for the sake of your family. Do not hold back in doing so. You should not let your professional life overshadow your personal life. Spend enough time with your family and friends.