Ugadi 2020: Happy Ugadi Wishes & Celebrations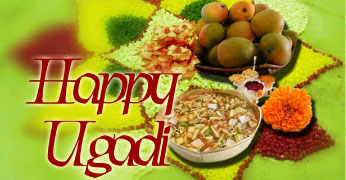 Ugadi is a major festival celebrated in the states of Karnataka, Telangana and Andhra Pradesh asHindu New Year's Day. it marks the first day in the month of Chaitra according to the HIndu Luni-Solar Calendar and falls during the Gregorian month of March or April. Know when the Ugadi festival in 2020 is occurring and the mythological legend behind its observance. In Maharashtra, it is celebrated as Gudi Padwa. Various delicacies are prepared according to the rituals. Read on to know more..
Read Horoscope 2020 Predictions & Know What's In Store For You
Ugadi Festival in 2020
Ugadi Panchangam For New Delhi, India
Telugu Samvatsara 2077 Begins
Ugadi in 2020
Wednesday, 25 March
Prathama Tithi Begins
at 14:59:33 on March 24, 2020
Prathama Tithi Ends
at 17:28:39 on March 25, 2020
Why Is Ugadi Festival Celebrated?
Ugadi is also written as Yugadi, but pronounced as Ugadi. Yugadi is a Sanskrit word, which is made of two different words, one is 'Yuga' and the other is 'Adi'. Yuga means year and Adi means Beginning. So, Yugadi means the beginning of the New Year. This is the reason that the festival of Ugadi is celebrated as a new beginning. There is a legend associated with the festival of Ugadi, let's get to know about the story behind it.
Legend Of Ugadi Festival
It is said that Ugadi is the day when Lord Brahma created the universe. It was on this day that Brahma formed the days, months, and years. So, the first day of this new start was named as Ugadi. This festival is said to be the change in lunar orbit and the beginning of the lunar year in Hindu Calendar. After a long & shivering winter season, a new season of blossoms arrives, which marks the day of Ugadi festival.
So, on the occasion of Ugadi, Mother Nature stands right in front of you with her arms wide open for a springful hug. The summer season is coming soon, let's celebrate the new beginning with Ugadi by offering every Ugadi wishes, gorging on the famous dish Ugadi Pachadi and making merriment. Wish your loved one a Happy Ugadi and plan a wonderful New Year.
Celebrations Of Ugadi in 2020
The first day of Hindu month, Chaitra is celebrated as Ugadi at Andhra Pradesh and Karnataka. On this auspicious day of Ugadi, people usually wake up before sunrise, take a sacred bath of oil, and wear new clothes. After this, people clean the whole house, and then decorate their homes and temples with mango leaves and jasmine flowers. People make rangolis at their gates to beautify their homes. All the members of family collectively worship the Almighty and seek blessings from him. After this, people offer holy water to the Lord Sun.
What Does Your Numbers Say About You: Numerology 2020 Predictions
The New Year starts with the blessings of God. It means that the whole year should pass as auspicious and happy as the day of Ugadi. Along with all these rituals, delicious food is also made to celebrate Ugadi. If you are going to celebrate Ugadi, you must know about the delicacies of this festival. These delicious and mouth watering delicacies will add a special feel to the Ugadi festival.
Delicacies Of Ugadi Festival 2020
The festival of Ugadi holds special significance in terms of food. There are certain delicacies that are served during this festival. First of all, people in Karnataka & Andhra Pradesh distribute jaggery and Neem together to symbolize that life is a mix of sweetness and bitterness together.
Some natives prepare food delicacies such as Ugadi Pachadi with six different ingredients representing six different emotions of life. The recipe may differ, but the message is the same:
| | | |
| --- | --- | --- |
| Ingredient | Taste | Emotion |
| Neem Buds/Flowers | Bitter | Sadness |
| Unripened Mango | Tang | Surprise |
| Salt | Salty | Fear |
| Tamarind Juice | Sour | Disgust |
| Jaggery/Gur | Sweet | Happiness |
| Green Chilli/Pepper | Hot | Anger |
There is a particular dish, which denotes all the tastes of life. It is made up of jaggery, Neem buds, tamarind juice, and raw mangoes. This dish is known as Bevu Bella. So, this was all about the celebrations & the delicious delicacies of Ugadi in Karnataka & Andhra Pradesh. Go ahead and celebrate Ugadi in 2020 with wonderful celebrations and tasty delicacies. Let's get to know about the celebration all around India.
Ugadi Festival: Navreh In Kashmir
The Pandits living in Kashmir celebrate New Year as Navreh festival. Navreh is a Sanskrit word, which means Nav Varsh in Hindi i.e New Year. On the night before Navreh, Kashmiri Pandits keep raw rice, bread, yogurt, flowers, almonds, walnuts, salt, sugar candy, silver coin, mirror, and Panchang on a plate. This plate is the first thing to see when they wake up. Kashmiri Hindu calendar's Saptarshi Era is said to have started on this day.
Read: Chinese Horoscope 2020 As Per Chinese Zodiac Sign
Ugadi Festival: Gudi Padwa In Maharashtra & Goa
Maharashtra and Goa celebrate the first day of Hindu month, Chaitra as Gudi Padwa. Gudi means temple and Padwa is the first day after Shukla Paksha (bright phase of Moon).
Kalash Sthapna is the main ritual of this festival. Kalasha is a copper bowl which is placed over a bamboo stick. This bamboo stick is wrapped with a silk cloth and known as 'Gudi'. This Kalash signifies the nature's gift to us. Women decorate their house with beautiful Rangolis and worship the Kalash.
Sweets and dishes are exchanged on this auspicious day. Gudi Padwa is also celebrated as the victory of Lord Rama over Ravana. The 'Gudi' represents the flag which was kept outside every house in Lanka after the victory of Rama's troop.
Celebrate the Ugadi festival in 2020 with great fervour and enthusiasm with your loved ones and enjoy the delicacies. Wish everyone you love and care a Happy Ugadi and offer Ugadi wishes in 2020.