Yearly Virgo Horoscope 2018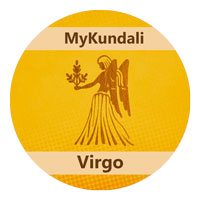 Summary: As per the 2018 horoscope predictions, this is going to be an amazing year for people under Virgo sign. Your hard work done in the past will show its colors and you will get new sources of income. Both your personal and family income will increase but you are advised not to be lenient in money related matters. You will get many chances to improve your luck during this year. Healthwise, this year demands special attention. So, don't be careless about your health otherwise some major issues may trouble you. If we talk about your work, you are expected to get promotion and appreciation for your the quality of your work. You will get support of your senior authorities which will prove to be very beneficial for you. 2018 Virgo horoscope says, natives running business of electronic items will get huge success. Experts in Statistics and software professionals will also grow and shine around this time. Also, there are possibilities of acquisition of land and property. You are suggested to stay away from loans and debts during this time otherwise you may land in unwanted trouble. You need to be very careful while dealing with your kids. Some differences may occur with them which can result into strained relations. So, you need to be very patient in unpleasant situations. Health of your children needs a check this year.
Remedy: Worshipping Lord Ganesha and Devi Laxmi will bring good fortune to you.
To read your virgo horoscope for year 2019, please visit: Virgo Horoscope 2019
January
For people under Virgo sign, this month appears to be normal. During this period, if you won't get profit you will also not be at loss. There are possibilities of increase in shared resources within the family and it will improve your financial status. Due to purchase of expensive household items, your expenditure may go high around this time. So, be careful. There will be increase in your mental activity and your creative energy and intellectual capability will help you in accomplishing your goals. Favorable time for lawyers, teachers, counsellors, advisors and speech therapist. You will put extra efforts to prosper in all directions. As per 2018 Virgo horoscope, you are suggested to control over your anger and speech because you're wrong words may create misunderstandings between you and your family members. So, be kind to others and avoid using harsh words. By the end of the month, you will get the fruit of your hard work and things will get settled.

February
For Virgo, horoscope 2018 predicts that you may have to face many challenges this month. In first half of the month, some tensions are expected from your childrens' side. You may face lack of mental peace due to tensions and worries. During this time, sudden investment will be needed for children. They may plan to join advanced courses which might require hefty tuition fees or they may go out of station for academic purpose. If we talk about your love life, you need to be very careful. Virgo horoscope 2018 predictions says, there are indications of some tiffs and strained relationship. Hence you need to maintain some balance in your love life. Try to give extra time to your love partner. On health front, you need to be very careful during this time. Problems like food poisoning, painful mouth ulcers and sores may trouble. There will be increase in valor, courage and aggression. Graphic artists, foreign language experts and technical writers will perform well and shine in their career.
March
This month will prove to be positive for you as there will be happiness and things will be wonderful especially for married couples. You will share a very good understanding with your life partner and there will be peace and harmony in your marital life.You will get support of your spouse and your bond will get stronger by each passing day. Some auspicious occasion might take place at your home. Marriage of someone in the family may be solemnised soon. 2018 Virgo horoscope also predicts, there are possibilities that you will change your current residence and move into a bigger house. You will be stuck with a very hectic schedule this month and your family members will feel neglected. Try to handle frictions with tact and temperance. Time is good for natives in business especially those dealing with perfumes, cosmetics, artworks, jewellery and luxurious items. Chances are high of making good profit this month. You will plan to expand your business around this time. There are strong indications of joint activity with your life partner. It might be personal, recreational, professional or travel oriented.
April
You need to be very careful with your words this month especially when it comes to your marital life. Try to end your ego battle with your spouse as soon as possible otherwise it will ruin everything. It will be great if you will stay alert at your workplace also. Remember use of faulty language will increase your problems. Stay away from all the gossips and politics at your workplace. At financial front, this month will be quite beneficial for you. You will be able to save more and and this will keep you on a stable ground. Time is not good for investment in realty sector. Avoid buying or selling of land/residential property. Read carefully before signing all the documents related to your property or work because there are chances of deception, as per Virgo horoscope 2018 predictions. This month your father's health needs attention. Some serious issues may trouble him during this time. But in the latter half his health will start improving.
May
There are strong indications of tension from your children's side this month. Strained relationship is expected with your kids and you might be unable to repair the ruptures occurred between you both. So, you are advised to behave calmly in the negative situations and try to handle them with love and affection. Avoid being over aggressive otherwise you will lose your mental peace. If we talk about your parents, time seems good for your father but your mother's health will not be so good. Hence, keep a very good care of her. According to Virgo horoscope for 2018, you will get full support of your family especially of your elders. This will surely lift up your spirits and you will be able to give your best. At work, try to get clarity in professional matters and you will find that things are going your way. Guidance of your seniors will help you in improving the situation. Time is favorable for students pursuing technical courses. Their hard work will beget good results and they will get high scores.
June
Good fortune is indicated this month for people under Virgo sign. In Spite of all the challenges, you will make progress during this period. There are possibilities of travelling abroad in connection with work or business. 2018 Virgo horoscope says, your family business will flourish and you will get help and support of your parents. There will be peace and harmony in your familial life. But you need to handle your adolescent children with love and patience. Counselling can help in balancing and improving things. You will be surrounded by positive energy and more confident around this time. New friends will come into your life and you will remain busy in partying this month. You will get ample opportunities to socialize which might fetch you good results. Film actors, choreographers, professional photographers and video editors will shine in their career during this time.
July
This month you will be on a roller coaster ride as some ups and downs are possible. Health of your father might be one of the reasons of your tension. So, he needs proper care during this time. Also, there would be some medical expenses which might imbalance your budget. This will be the period full of hectic activities in both professional and personal life. Some long and short trips related to work is predicted this month. Religiously inclined natives will go to a pilgrimage while some of you will enjoy a spiritual retreat. Virgo horoscope for 2018 predicts, you are suggested to think properly before taking any decision. Avoid taking rash decisions and don't jump to the conclusions too quickly. At work front, some issues with senior management are indicated. Hence behave gently with all and try to remain in the good books of your seniors.
August
Initially your intellectual energies will be scattered and you will be in a confused state of mind. You will unable make good decisions which will keep you disturbed. At financial front, you need to be very cautious this month. Avoid wasting money unnecessarily and be careful in transactions because there are chances of deception. Also, time is not favorable for your family life. Tension may prevail and there would be lack of peace and harmony in the family. Try to mend things tactfully and maintain the sweetness of your relationship. Your business dealing with computer parts will run well during this period as per Virgo horoscope for 2018. Chances are high of getting good profit. Computer hardware professionals, software developers and other technical experts will shine in their career and reach an important peak. Healthwise , this month appears t good but still you need to be careful especially with your eyes.
September
Happiness will prevail in your domestic life and you will spend some memorable time with your family. You will plan a short trip with your family and have lots of fun. An auspicious occasion may take place at your home this month. As per 2018 Virgo horoscope, there are strong indications of professional growth and financial enhancement of your spouse during this period. If you are planning to buy or sell a land then later half of the month will be an appropriate time. You will enjoy a good health this month. You will feel more energetic and active and able to express your thoughts clearly. Your powerful and wonderful speaking skills will surely beget fruitful results. You will earn applauds from your seniors and colleagues for your efficient style of working. If you are associated with the management or working in the administration then you may have to face some difficult situations such labour unrest.
October
This month will prove to be beneficial for market analysts and natives in market research. They will provide correct information and receive appreciation for their accurate predictions. Also, family counsellors, third party negotiators and legal counsellors will be in great demand during this period. Seems like, you are going to enjoy a good time as there will be a good cash flow this month. But you are advised to avoid unnecessary expenditure in the second half of the month. Happy and joyful familial life is indicated. You will able to maintain a good balance between personal and professional life as well. However, Virgo horoscope for 2018 predicts some minor differences with family members are possible but they will be sorted out with effective communication skills. Favorable time for married couples but lovebirds may have to face some grave situations. At work, you will get huge success and support of your seniors will keep you pepped up.

November
In the first half of the month, you will feel charged and refreshed. You will highly communicative and assertive while in the second half of the month you may be more withdrawn than usual. You are likely to experience a very hectic and active professional life. Excellent time for big investments but hard work is needed. Problems with siblings are indicated due to business collaborations. You will take good initiatives and put more efforts to improve your personal and professional life as well. Also, you will be praised for your excellent organisational skills. Don't take decisions without thinking, predicts 2018 Virgo horoscope and avoid aggression during this time otherwise it will result into disharmony. Stop criticising others and playing blame game because it will hamper your personal relations. Healthwise, this month seems good. You will take more interest in personal health and fitness. Also, you will participate in workouts and sports in order to keep yourself fit and fine.
December
According to the astrology predictions 2018, this month is going to be average for you. In the first half of the month, you will feel disturbed because of your children. Some differences are expected with them but you need to be patient try to handle the situation very carefully. Relation with your spouse will stay good and his/her success will keep you happy. During this time, you will get full support of your life partner and your bond will get stronger. But health of your partner needs attention this month. At work, you are advised not to share secret of your success with your co-workers because some envious colleagues might trouble you. Virgo horoscope for 2018 also says, try to maintain good relations with your seniors because their support and guidance will take your career further. Excellent time for natives working in electronic media. Authors of fiction, literary critics and satirists will also shine during this period.