Virgo Horoscope 2019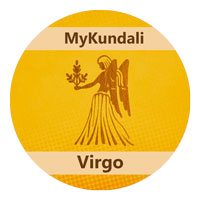 The natives of Virgo zodiac sign are talkative and hard-working by nature. They are known for their efficiency and hate to leave anything done halfway. As per Virgo horoscope 2019, good opportunities may be available to you during the year. Keep your confidence levels high in order to succeed in your endeavours and accomplishing your targets. You may strive to better yourself, not only for monetary gains but also for the feeling of satisfaction of accomplishments. You may be successful in your occupations and your regular routine both at work and at home, according to horoscope prediction for 2019. You will be supportive towards your children's demands and help them in their practical activities. In the beginning of the year, you may feel that things are not working your way or everything is going beyond your control, or nothing happening the way you want it to. But the situation may ease sooner than you expect and things will start rolling in their own pace. You are not afraid of hard work and it gets you results as well.
WORK AND BUSINESS HOROSCOPE 2019 FOR VIRGO
According to Virgo horoscope 2019, the natives indulged looking after career, work and business may find ample opportunities for advancing in career, during the first quarter of the new year. Most of you may get opportunities for "work from home" or may even land up with long-term projects. Domestic and international travels are possible during this period. Travel for business expansion is also indicated. You will be ready to take up new challenges at work place and gear up to meet deadlines and targets. Be careful of initiating partnership ventures during the last week of February and April. The further period could be a turning point in career for most Virgos which may yield good dividends later. Businessmen may get opportunities to expand their business and to open up new branches of the parent concern. Overseas travel may be on the horizon. You may gain a lot professionally during this period. Engineers and those from technical field may find the going good. During the mid year, you may get mixed results. You tend to work hard and reap the rewards later. You may realize your goals. August seems to be a satisfying month with a feeling of achievement and progress. It may entail a lot of travelling, but you may be enriched in terms of association, experience and gains. The natives of Virgo zodiac sign may have to work really hard to prove among seniors. The workload may remain quite heavy to handle, you may have to garner support from co-workers in order to meet deadlines, effectively. You may face some opposition and adverse situations, but eventually emerge a winner. You may consider reviving a shelved project and start working on it. You may think of reviving workable joint ventures in order to turn them into profitable partnerships. During the last quarter of the year, entrepreneurs, trade analysts, consultants may de very well in their field of work. Most businessmen may benefit during this period. Small scale industries, part time workers, those working from home, online teachers may be benefitted. Many businesses may be rejuvenated, mergers are possible and new ventures may be considered. The year end will bring success stories to the fore and many entrepreneurs will reap the benefits. Overall, a good year for career and business joint ventures.
FINANCE HOROSCOPE 2019 FOR VIRGO
As per Virgo horoscope 2019, the year is expected be a favourable year for investments, financial growth and all round prosperity for Virgos, according to the finance predictions. The stars foretell a good start to the new year with gains from your enterprises. Monetary gains may be expected mid January onwards . Increments and bonuses may give a boost to your income, in the first quarter of the new year. You may invest in children's funds during this period. Some expenditure on health is not ruled out during this period. You may also invest money in health care schemes and life insurances. You may invest money in bank deposits in the name of your spouse and other family members. Some of you may invest money in personal business or family businesses. Elderly people may benefit from investments in government schemes. Small scale industries and small time traders and entrepreneurs may get loans and benefit from welfare schemes. For the natives of Virgo zodiac sign, April may be a very good month for investments in gold and precious metals, shares, mutual funds, recurring deposits and landed properties. Sudden gains may be expected in the further period, gains from ancestral property, legacies, lucky draws etc. During the mid year you may be adequately compensated and rewarded for your hard work in your profession. Businessmen will earn good profits. Speculators may earn well during this period. Expenses may be high in August. You may spend on travel, luxuries, and health care of elders. Financial gains may accrue at regular intervals. You should resist from wasteful expenditure during September. In the last quarter of the year, you may spend on education, religious functions, renovations of your house, shops etc. You may make investments for the future. People who don't have a regular income, should make provisions for enough savings, during this time of the year.
EDUCATION HOROSCOPE 2019 FOR VIRGO
According to Virgo horoscope 2019 for education, the year seems favourable. Your intelligence, discipline and focus on your goals may help you succeed. For school going students and college students, you will be immensely benefited by the help of your teachers and the internet. In the beginning and the first quarter of the year, those going for higher studies may find the right opportunities and also do well in their fields. Students appearing for competitive exams may also do well with normal efforts. Science and research students, technical/engineering students may perform exceedingly well by honing their practical skills with focus and dexterity. Law students and students of architecture and fashion designing, jewellery designing, gemology are expected to do very well in the further period. The April-May period may be a beneficial one for students pursuing economics, accountancy, journalism, law and administration. Students may get admissions in foreign universities and may make plans to travel abroad during this time. The mid year may be beneficial for students pursuing fine arts, dramatics, performing arts, they may find opportunities to showcase their talents and achieve success in their respective fields. August-September may be a favourable period, many students may fly abroad for higher education. Those appearing for competitive exams may fare well. Efforts in the right direction may yield good results. The last quarter of the year may prove beneficial for students appearing for competitive exams as well as those who are pursuing higher studies. Students from almost all fields are expected to excel during this period. Many of you who have completed your education or are in the process of completion, may find jobs or avenues for earning.
FAMILY HOROSCOPE 2019 FOR VIRGO
Familial relationships will be warm and happy according to Virgo horoscope 2019 for Virgo. The beginning of the year and during the first quarter of the year, your relationships with parents, siblings, children and spouse will be harmonious and pleasant. You will earn good will and affection from family and friends. Elders in the family will be happy and contented. You may develop a sweet bond with your spouse/partner during this period. Some differences in opinion may be expected in the later period, but it would be wise to handle the tension with a cool mind. Your conduct may please your family and you may gain their support and blessings. Children may do well in their studies and hobbies, which may bring you a lot of satisfaction. The mid year is also expected to be smooth sailing in matters of the family. You may reward your children with gifts and treats. You may socialize with friends and also coordinate with them for some humanitarian socio-economic causes. You may give and accept gifts too. Domestic bliss will be great during August. the natives of Virgo zodiac sign may be concerned about the health of parents and may have to pay more attention towards the progress of children, in the following period. An auspicious event may be celebrated with family and friends, during the last quarter of the year. A family trip may be organized in the month of October. Merriment and a family reunion may add to harmony in the family, during the year end.
LOVE HOROSCOPE 2019 FOR VIRGO
The year may begin with a sense of excitement, states the love forecast for Virgos for 2019. The excitement may manifest on the level of love and caring. Lovers may be more compassionate in their actions in the beginning of the year. You may go on a short holiday with your partner. Love may take a back seat in the following period and career issues may take a priority. You may have to chalk out new plans for both of you. Single Virgos may have set rules and criteria for choice of a life partner. Past relationships may hold you back. Some of you may find someone trying to win over you by fitting into rules set by you, at your workplace. There is a possibility for the natives of Virgo zodiac sign to meet someone through friends also, during the mid year. August may bring some freshness in matters of love. You may go for a vacation with your close friends and partners. You may spend much on gifts, travels and luxuries during this period. October may bring a more philosophical outlook towards love and relationship matters. You may think of tying the knot with a suitable partner, if you are single or a divorcee. You may achieve what you wish for by letting go of a previous situation. Many of you may find intellectual partners who may inspire you . If you are in a relationship you will find it easier to acknowledge a change in your partner. By the end of the year, most eligible Virgos will have wisely chosen perfect partners for themselves and experience tenderness, wholeness and true love.
HEALTH HOROSCOPE 2019 FOR VIRGO
Stress and tension may cause you trouble, as per health horoscope 2019 for Virgo. Release your inner tensions, go for relaxation techniques like meditation, relaxing music, aromatherapy and of course, vacations. Your peace of mind and energy will increase. Some of you, especially elders may face abdominal complaints, liver/digestive problems and eye related problems. Blood pressure or any chronic health complaints should be monitored well and taken care of. Ayurveda, alternative therapies may help. Diet should be taken care of during the mid year. Outside food must be avoided. Aches and pains, arthritis, joint pains may aggravate during winter. Walking on grass before sunrise and yoga asanas may help. Some minor ups and downs in health may be experienced through the year. For the natives of Virgo zodiac sign, taking normal precautionary measures will be okay. It would ensure good health if you will be sensible and consistent in consuming a nourishing healthy diet.
REMEDIAL MEASURES
Worship Ganesha with faith, especially on chaturthi.
Feeding cows with green grass on Wednesdays will be beneficial.
Plant a tulsi, water it and take good care of the plant.
Distribute books, writing materials, and stationery materials to needy and deserving students. You may sponsor any poor child's education for a certain time period.
Reciting Sri Vishnu Sahasranama daily will give beneficial results.
Auspicious/lucky numbers would be 5, 14, 23, 32.
You may plan your important aims on 5th, 14th, 23rd of any month.
Shades of green, white, lighter shades of gray, may be lucky for you.
Emeralds and jade may be lucky jewels for you.
Meditation may bring calmness and peace to your mind.