Sagittarius Horoscope 2014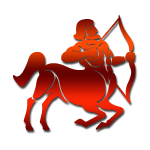 Sagittarius Horoscope 2014: General Predictions
Sagittarius horoscope 2014 indicates that this year might be a bit unfavorable for you. You may not be able to advance in your financial abilities. During 2014, you may have to take adequate precautions while making your financial planning. Heavy unexpected expenditure is in store of your Sagittarius horoscope 2014. Some of the natives may be compelled to borrow funds in 2014. You may be moody and indecisive, as per your 2014 astrology. Majority of your expenditure may take place on medical grounds either for yourself or for your family members. An elderly person's health may be a source of concern to you. Astrology 2014 predicts that communication related problems may have a negative impact on your career. Wasteful expenditure and losses are indicated. If you are in the stock market, you are likely to incur heavy losses. Astrology 2014 for Sagittarius suggests you to be careful in speculative activities. On career front, some of the natives may get elevation and some of you may get transfers of your choice. Those in the field of media may flourish well in 2014. This is a favorable time for love and marriage to happen. You have to be very careful while driving vehicles or handling sharp edged items as bodily injury is indicated. 2014 is a good time for you for investing in Gold/infra/long term investments. You may get financial benefits from your spouse. On career front, some of you may get new positions of power with authority. Business persons should be very cautious. 2014 astrology predicts that you may get some quarrels from your partners. Be prepared to face tough situations this year.
Sagittarius Horoscope 2014: Business - Career
According to the horoscope 2014 for Sagittarius, the changes in professional sphere, began in the past, would proceed cautiously. Businessmen may expand the business, involving their partners or close acquaintances. In the first half of the year, you'll probably purchase a new office or re-equip old premises. A new business line may face a lot of difficulties, and won't probably develop as fast as it was expected. You may develop serious financial disagreements with partners, which may put business to a deadlock. The second half of 2014 is especially unfavorable. You may face separation in partnerships. Sagittarius 2014 astrology predictions foretells that investors may let you down. You may run a risk of remaining without both wealth and friends.
Sagittarius Horoscope 2014: Finance
Financially, the first half of the year is quite favorable. Some successful real estate operations would benefit you. The second half of 2014 would become an agitating time. Large financial losses and conflicts connected with Finance or other assets may occur. As per Sagittarius 2014 horoscope, you may lose control over finance because of risky and adventurous activities. After June, financial dealings may require prudence and caution.
Sagittarius Horoscope 2014: Love - Relationships
2014 would be favorable for you in matters of the heart. You may face several changes not only in business affairs, but in private life as well. You may start to build your own home or may make renovations. Either way it is a good period to make your home more spacious and comfortable. Second half of 2014 may bring many problems with children that can last for a long time. It is possible that children may need not only moral support, but also financial help. Second half of 2014 is not a happy time for lovers. According to the Sagittarius horoscope 2014, it is possible that the situation may get out of control in November - December, when the most violent conflicts may break out, after which it'll be difficult to get together without painful resentments and accusations. So, you should be careful if there is a desire to remain together.
Sagittarius Horoscope 2014: Health
In 2014, the influence of Saturn over your sign will reduce the energy level. Issues related to stiffness of muscles and nerves/joints in the lower half of the body may cause problems.
Let's have a look at the prediction 2014 for individual stars consisting Sagittarius:
Moola Horoscope 2014
According to your Sagittarius 2014 horoscope predictions, an increase in knowledge and skill is likely. 2014 is a good period for students for clearing competitive exams and achieving success. Increase in wealth from religious activities will be beneficial to you.
Purvashadha Horoscope 2014
As per 2014 horoscope for Sagittarius, family relations may not be helpful to you. Disagreements and mutual discord may create disturbances in domestic life. Separation from the loved one is indicated by your astrology 2014.
Uttarashadha Horoscope 2014
Increase in ambition and goals will help you set high targets. In 2014, ego and clashes with colleagues will cause fights and involvement in legal hassles. Society/government agencies may cause complications and problems which are against the law.
Sagittarius Horoscope 2014: Suggestion & Remedies
Sagittarius horoscope 2014 advises you to perform remedies of Jupiter for overcoming the obstacles:
Worship ruling deity Dakshinamurty (for Shaivayats) or Narayan (for Vaishnavas).
Recite Shri Rudram
Japa of the Guru beeja mantra: Om gram greem groum sah gurave namah, 16000 times in 40 days
Recite the Guru stotra
Donate: Saffron or turmeric or sugar on Thursdays
Fasting: On Thrusdays
Pooja: Rudrabhishekam
Rudraksha: Wear a 5 mukhi rudraksha
Jadi: Banana root
Gemstone: Yellow sapphire
By SN Rao