Leo Horoscope 2013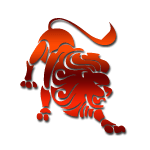 Leo Horoscope 2013 is based on Vedic Astrology. Leo is the 5th Zodiac sign in Astrology. Leo is ruled by the mighty and sovereign Sun. A lion represents this Zodiac sign. As we can see that with Sun as Leo's governor and lion as its mascot, Leo can be reaffirmed as the synonym of power, omnipotence and supremacy. Leo symbolizes strength of character and an ambition that is backed by tremendous self confidence and a desire to be above the rest. Just as the king of the jungle exudes royalty and pride, so does the person who carries this sign. Leo people are ardent and supportive but at the same time, they can be very snobbish and arty. Often their obstinacy gets the better of them. Yes, they are strong but at times you will find them so melodramatic that it would baffle your senses.
With the possession of such a powerful sign, let us see how the year 2013 will be for people who come under the Leo sign. We will tell you how the year 2013 will be for you.
Leo Horoscope 2013 for Family
Albert Einstein once said "Rejoice with your family in the beautiful land of life". Well, you have been blessed with a wonderful family who will give you all the love that you deserve this year. 2013 is the perfect year for you to strengthen your bond with your relatives and dear ones. If you had been in a family crisis in the previous years, they will all extinguish. Along with a pleasant atmosphere, your relatives will attain success in their lives, which will further enhance an amiable environment. You may plan to visit your relatives who live away from you. You will participate in some sacred activities that will take place at your home. You will be mightily blessed with serenity and bliss as far as your family life is concerned in the year 2013 horoscope.
Leo Horoscope 2013 for Career
Leo, there is no doubt that you are special. Thus it is but natural that something extraordinary is expected out of you as per 2013 astrology. True to your character, you will indeed do something out of the box this year. You will be acknowledged for this feat and that would naturally call for a promotion. Leo will have rivals swarming around them constantly. But do not be distraught about it. You know that you possess talent and capabilities that would surely incite the envious lot to try their might to pull you down. All you have to do is be yourself and no harm will come your way. You have been too generous and noble in the past and have allowed others to grab opportunities that were meant for you. But history will not repeat itself this year. 2013 is a propitious time for you to start a new enterprise. Your seniors and well wishers will be inclined towards you. During this year you will socialize and within your circle, you will be given the rightful place.
Leo Horoscope 2013 for Health
It appears as if you have conquered the year 2013. In terms of health too, you will be favored. You will enjoy a good health that will be deprived of ailments and diseases. There is a tendency that the changing atmospheric conditions may pose an adverse impact on you, but there is no need to worry. Your strong immune system will drive the negativity away leaving you hale and hearty. Some of you may be suffering from a prolonged illness according to horoscope 2013 astrology. There is a possibility that you will recover from that too.
Leo Horoscope 2013 for Finance
A penny saved is a penny earned. So as the year 2013 is hailing blessings upon you, use this time wisely and indulge in saving. You will have sufficient and constant flow of income during this year. You may also get some foreign money as per astrology 2013. As we have mentioned before that your family will be very supportive this year, discuss all financial matters with them. With mutual understanding with your family invest or save your income. Your fortune seems ever bright as there appears to be a scope of income from external sources that you have least expected. You will have to put in extra stamina and mental effort to achieve it. But you resilience
Leo Horoscope 2013 for Education
With the kind of ambitious spirit that you possess, you require outstanding education and talent. For Leo students, the year 2013 will be fruitful in terms of education. Since you like to have dominance over others it is best that you go for administrative or executive posts. For this you will need to attempt competitive exams like SSC, Bank, Civil Services Exam, etc. Since 2013 is favorable for you in terms of education, sit for these exams as you may be successful. This will be a very beneficial platform for you. If you desire to study overseas, do not hesitate. Just apply for the University of your choice and you will achieve success. All you have to do this year is select the subject or course of your taste and apply in the institution you desire.
Leo Horoscope 2013 for Love
Love is in the air for you Leo. You have been targeted by the cupid. So this year will be compatible for you. In case you are single it's time to let go of solitude and mingle. It is most likely that you may find a suitable partner for yourself and settle down in the sacred bond of marriage. For married Leo, you will strengthen your bonds with your partner. Your better half will adore you and you will be able to derive complete satisfaction from your married life. You will be exhausted of your aimless romance and seek settlement in love affairs. You may have small arguments with your partner but that shouldn't cause you any bother as they merely break the monotony and make way for rejuvenated love . There is no place for heart breaks and emotional drama. Leo will have a romantic 2013.
As you can see that the year 2013 will be a glorious one for Leo. Be it from any aspect, Leo will have an upper hand above all the others. This is your time. Make the most of it. You will be in seventh heaven and enjoy every moment of success. Yet do not be the victim of overconfidence and pride, as this is your major weakness. You possess a beautiful heart so let that be the conqueror of all your actions. May you get all the honor and happiness that you deserve in 2013.