Rakhi Date in 2020: Raksha Bandhan Celebrations & Wishes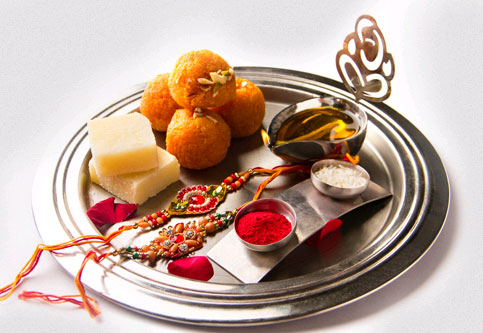 MyKundali offers you the accurate Raksha Bandhan Date in 2020 along with auspicious Rakhi muhurat. Know the religious significance of Rakdha Bandhan and find out why it is also called Rakhi Purnima. Know how Rakhi 2020 will bring you prosperity and happiness and enhance the love and relationship shared between brothers and sisters.
This year, Raksha Bandhan will be celebrated on Monday, August 03, 2020. According to the Hindu Calendar, it is observed on the full moon day in the month of Shravan. On this day, brothers and sisters celebrated their bond of care and protection. In other parts of India, it is also known as Rakhi Purnima, Rakhri, Rakhi, etc. Keep reading this article to know more about this occasion. Raksha means 'protection' and Bandhan means 'bond', therefore it means the bond of love and protection. Raksha Bandhan signifies the love and respect of a sister, as well as the protection and care of a brother. Rakshabandhan is the festival that adds on love, and strengthen the beautiful relationship of brother and sister.
Below is the Raksha Bandhan muhurat for 2020 year. Perform the ceremony as per this muhurat and enjoy this beautiful day with your brothers, sisters and family.
Read Your Daily Horoscope Here
Raksha Bandhan Date in 2020 Muhurat
Raksha Bandhan Muhurat For New Delhi, India
Raksha Bandhan Date
Monday, August 03, 2020
Raksha Bandhan Thread Ceremony Muhurat
09:27:30 to 21:17:06
Duration
11 Hour 49 Minutes
Aparahan Time Raksha Bandhan Muhurat
13:47:43 to 16:28:59
Raksha Bandhan Pradosh Muhurat
19:10:15 to 21:17:06
Raksha Bandhan is celebrated by using a sacred thread called "Rakhi". It is made from cotton or silk. Rakhi is to be tied around the wrist of brother from his sister. Sometimes, it can be a piece of precious jewellery like silver or gold bracelet. In 2020 also, Many kinds of Rakhis are available in the market like cartoon Rakhis for children, beautiful bigger Rakhis for young people and Rakhi threads for older people. Choose the Rakhi of your choice to celebrate the festival of Rakshabandhan in 2020.
Rakhi, or Rakshabandhan, is also celebrated between those who shares a caring relationship between each other, whether they are biologically related or not. Cousin brothers and sisters also celebrate Rakhi Purnima and share the same bond of love and care. So, celebrate Raksha Bandhan this 2020 with your loved ones with full zeal and enthusiasm.
Rakhi in 2020: Religious Significance
Before celebrating Rakshabandhan festival in 2020, let's discuss about its significance -
It is believed that Rakhi (blessed thread of cotton or silk) has the power to protect the brother or the one who tied Rakhi around his wrist, from all the evil or bad things. Rakhi blesses him and give him the power to win against all odds. The brother promises his sister to protect her from all the bad or harmful things within the society. He will always support her in every (good or bad) situation and be with her, financially or physically when needed.
Raksha Bandhan creates and maintains a special and beautiful bond of love, care and respect between brothers and sisters. Raksha Bandhan or Rakhi Purnima in 2020 spread the message of this divine love.
Know More: Diwali 2020 Date, Muhurat & Legend
Celebrating Rakhi In 2020
Before celebrating Rakhi Purnima or Raksha Bandhan, let's first discuss the procedure of celebrating Raksha Bandhan.
Different types of beautiful Rakhis are picked up by sisters. A plate is decorated by them, with some Rakhis, sweets, Roli (vermilion), Chawal (rice) and an earthen lamp (Dia). New clothes are worn by both brother and sister. Sisters pray for the well being of their brothers, by rotating the Puja plate around their face. Then she applies Tilak (vermilion mark on forehead) with some rice on it. After tying the Rakhi around her brother's wrist, she offers him some sweets. Both brother and sister feed sweets to one another.
Brother pledges to protect his sister and give promise to support her in every situation. This ceremony takes place in the presence of parents and all relatives. People will follow the same rituals for celebrating the festival of Raksha Bandhan in 2020 as well.
The two or more brothers who don't have a biological sister or two or more sisters who don't have any biological brother, celebrate this festival with their cousin sisters and brothers. Sisters can also mail Rakhis to their brothers who are not present with them at the time of the festival. Celebrate Rakhi this 2020 by following these Rakhi rituals.
Raksha Bandhan in Mythology
There are some legends from ancient times, which shows the significance and power of the holy thread Rakhi. Let's discuss these legends first, before celebrating Rakshabandhan or Rakhi Purnima.
The Holy Thread Of Devi Sachi
Once there was a fight between Gods and demons. The demons were overpowering Gods and the leader of Gods, Indra Dev was disgraced by the King of demons. Devi Sachi, the wife of Indra Dev was very worried and thus consulted Guru Brihaspati for help. Guru Brihaspati gave her a holy cotton thread and asked her to tie it around the wrist of her husband i.e. Indra Dev. Devi Sachi tied that blessed thread around her husband's wrist along with her wishes and prayers. The holy thread gave Indra Dev the powers and he defeated the demons successfully. This story inspires the power of holy thread.
Goddess Laxmi & King Bali
Once Lord Vishnu defeated King Bali and took over the three worlds from him. Bali was impressed and requested Lord Vishnu to stay in his palace. Lord Vishnu accepted his request and started staying in Bali's palace. The wife of Lord Vishnu, Goddess Laxmi was not happy staying in Bali's palace, she wanted to go back to Vaikuntha. So, she went to Bali, tied a Rakhi around his wrist and made him her brother. Bali accepted the relationship and asked Goddess Laxmi that what she wanted in return. She asked him to take back his request from Lord Vishnu, as she wanted to go back to Vaikuntha. Bali accepted his sister's request, and this story again signifies the power of a sacred thread.
Legend Of Yama & Yamuna
Once Yamuna was very depressed and missing her brother Yama (the god of death) badly, as he had not visited Yamuna from 12 years. Yamuna consulted Ganga (holy river Ganga) and told her the reason for her sadness. Ganga then reminded Yama about his sister, and he visited Yamuna. Yamuna was overjoyed and she greeted him with lots of food and sweets. Yama was overwhelmed by his sister's love and asked what she wanted as a gift, and she only requested him to visit again soon. This story become the significant reason for celebrating the love of brother and sister or Raksha Bandhan.
Legend Of Santoshi Mata
Lord Ganesha had two sons, Shubh and Labh. During Raksha Bandhan, the sister of Lord Ganesha visited their place for celebrating the festival with lots of love and wishes. After seeing their love, Shubh and Labh were got irritated and asked Lord Ganesha for their sister. Lord Ganesha agreed and created his daughter from the divine flames of his wives Riddhi and Siddhi, named as Santoshi Mata. All the siblings then started celebrating Raksha Bandhan with lots of fun and joy.
Legend Of Mahabharata
During the period of Mahabharata, Draupadi tied Rakhi to Lord Krishna for her husband's safety. And Mata Kunti tied Rakhi to her grandson Abhimanyu for his safety before the great war.
Solar & Lunar Eclipse in 2020: Eclipse 2020
Rakhi Purnima In 2020
Rakhi Purnima is a festival which is not bounded within the limits of biological relationships or families, that is why it is celebrated on such a large scale. People started tying Rakhis to their friends and neighbours, or to those with whom they want to share this special bond of love and care. This adds on to the significance and celebrations of Raksha Bandhan.
People start preparing in advance for the celebrations of Rakhi Purnima. Large variety of Rakhis and gifts can be seen in the market almost a month before the festival of Raksha Bandhan. There is also a tradition of exchanging sweets on this auspicious occasion of Rakshabandhan.
Siblings perform rituals in the presence of all family members, they spend time together and celebrate by exchanging gifts and sweets. All siblings and relatives enjoy good food and remember the memorable moments they spent together. The siblings who are far away or cannot come for the ritual can share e-cards or emails for giving their wishes. Offer Rakhi wishes to your sisters and brothers and respect the bond of love and selflessness.
Raksha Bandhan 2020: Celebrations Around The Country
Kumaon, Himachal Pradesh: In the area of Kumaon Uttarakhand, men change their Janeu (the sacred thread) on the day of Rakhi Purnima along with the usual rituals of the festival for celebrating Rakhi.
West Bengal: In West Bengal, Raksha Bandhan is also known as Jhulan Purnima. They offer prayers to Radha-Krishna and sisters tie Rakhis on their brothers' hand by following the usual rituals.
Nepal: In Nepal, Rakhi is also known as Janeu Purnima. They enjoy the festival by sharing sweets and gifts and a sacred thread is tied around the wrist by family members or relatives.
Pakistan: Hindu community of Pakistan celebrate the festival of Raksha Bandhan. They also follow the same usual rituals for celebrating Rakshabandhan with full fun and joy.
The people of these areas will follow the same trends and traditions for celebrating Rakhi Purnima in 2020.
Delicious Delicacies On Raksha Bandhan 2020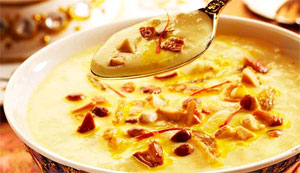 Every year different sweets are prepared at home or bought from the market to add on the sweetness of this sweet festival. Names of some of the sweets prepared on Raksha Bandhan are as follows:
Sevai (Vermicelli pudding)
Badam Halwa
Coconut fudge
Ghevar (traditional seasonal sweet, especially available during Raksha Bandhan)
Phirni (traditional sweet)
Boondi Ladoo
Besan Burfi
Chocolate Burfi
Mawa Burfi
Gujia
Besan Halwa
Rabri
Gulab Jamun
Some other tasty and salty delicacies of Rakshabandhan are Khasta Kachori and Papdi Chaat. Some people also prefer to share chocolates or cookies as sweets, according to their choice. People also buy or prepare sweets or other delicacies to celebrate in a more delightful manner. Prepare these delicacies this Rakhi 2020 and enhance the flavour of love.
Raksha Bandhan is beyond the limits of cast, creed and biological relationships. It celebrates the purity of the beautiful relationship of brother and sister. Hope this article helped you in understanding Raksha Bandhan or Rakhi Purnima better, so celebrate Raksha Bandhan festival this 2020 and enjoy it to the fullest.
Happy Raksha Bandhan..!