Durga Puja 2019: A Five Day Visit By Devi Durga!
Durga Puja is celebrated from the 6th day of Sharad Navratri and lasts on the day of Vijayadashami. It is celebrated to commemorate the triumph of good over evil. On this day only, Goddess Durga killed the demon Mahishasura. According to the Hindu Calendar, it is observed in the Shukla Paksha of Ashwin month. In 2019, it will start on October 04. This festival is mainly celebrated in Southern India. To know more, read on this exclusive article only on MyKundali...
Durga Puja : What Is Durga Puja?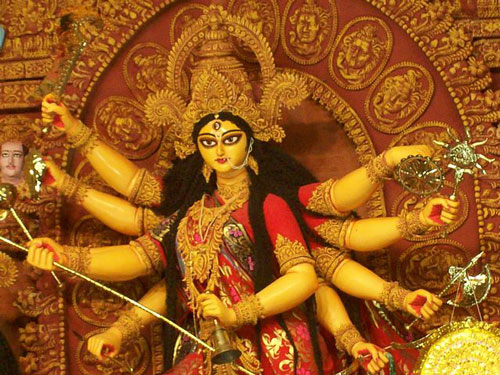 Durga Puja is one of the most awaited Hindu festivals. Hence, we have brought you each and every detail, you need to know about Durga Puja.
Durga Puja calls for the personification of Goddess Durga when she visits us for a period of five holy days. Durga Puja is the festival of joy and it turns into a carnival in West Bengal. Durga Puja, also known as Sharadotsav, is performed during the season of Autumn.
Durga Puja is celebrated in vivid forms in different parts of the country, but West Bengal remains the hub for Durga Puja celebration. Let's know more about Durga Puja before we proceed to worship Goddess Durga.
Mahalaya heralds the coming of Goddess Durga on earth. On the day of Mahalaya, Goddess Durga is invited to transcend on earth. The festival of Durga Puja starts from Shashthi or the sixth day of the month of Ashvin. It ends with the immersion of Durga idols or Visarjan on Vijayadashami.
On Durga Puja, Goddess Durga is worshiped along with her four children - Ganesha, Kartikeya, Laxmi, and Saraswati. Lord Shiva is also given a special place during Durga Puja. The period of worship is also known as Devi Paksha or the fortnight of the goddess.
The time of celebration is also known as Akaal Bodhan. Durga Puja is celebrated in the autumnal phase of the year but, there is a contradiction to it. According to evidences in mythology, the Sharadotsav or Durga Puja of autumn season is the unconventional time to worship Goddess Durga.
Actually, Durga Puja is to be celebrated during the Chaitra month of Hindu Calendar , known as Basanti Durga Puja. Although, Sharadotsav has gained much more popularity and it has become the prime festival to invoke Goddess Durga's blessings in India.
The commencement of Durga Puja corresponds with the sixth day of Navratri festival.
The festival of Durga Puja cannot be termed as a carnival of mere 5 days. It actually begins from the day of Mahalaya.
To understand Durga Puja in detail, read the legends associated with it.
Legends Of Durga Puja
Alike any other Hindu festival, Durga Puja has more than one legend associated with it. Let's take a look at the legends of Durga Puja.
Mahishasura Mardini And Durga Puja
The demon king, Mahishasura, had grown into a heinous power and started killing innocent people. In order to stop Mahishasur killing spree, Brahma, Vishnu, and Maheshwara created the divine lady - Durga.
Durga was blessed with weapons from Devas or gods and a lion as her conveyance. She fought the Asura (Mahishasura) for nine long days. It was the tenth day, when Goddess Durga was finally able to conquer over the demon. Mahishasura was killed by Durga on Vijayadashami and she freed mankind, ultimately. Thus, she came to be known as Mahishasura Mardini after killing Mahishasura.
Owing to such a triumph of good over evil, Durga Puja is celebrated every year. Now, let's take a look at the other legends of Durga Puja.
Lord Rama And Durga Puja
Durga Puja is also known as Akaal Bodhan, due to its association with the legend of Lord Rama. Before heading to the battle against Ravana, Lord Rama worshipped Durga to be bestowed with her blessings.
According to traditions, the Puja required 108 lotuses, but unfortunately one lotus was missing. To compensate the missing lotus, Rama offered one of his eyes to Goddess Durga. This pleased Durga Devi and Lord Rama was able to invoke her true blessings.
Lord Rama defeated Ravana on the day of Vijayadashami after a fight that lasted for nine days as he was blessed of being invincible.
Akaal Bodhan means the untimely period of worshipping Goddess Durga. The period of worship by Lord Rama is termed to be the unconventional time to invoke Goddess Durga. Hence, its name Akaal Bodhan is popular among a large fraction of regions.
To know more about the significance of the days of Durga Puja, let's take a look at how Durga Puja is celebrated.
Durga Puja : Durga Puja Preparations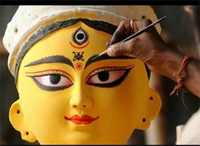 Preparations for Durga Puja start months before the actual occurrence. Pandals or temporary stages are created for installation of the idols of deities. This is a great time for the artisans or idol crafters to showcase their creativity. Kumartuli in Kolkata is a famous place where artisans spend months to carve the ideal sculpture of Mahishasura Mardini.
Bengalis consider Durga Puja as the prime festival that is celebrated annually. People indulge themselves in shopping and prepare themselves for the ultimate festivity of Durga Puja. But before carving out the idols of Durga, there is another important ritual that is followed in Durga Puja.
Let's take a look at the tradition that is to be followed in Durga Puja before beginning with the sculpting process.
Sex Workers And Durga Puja
Sex workers are given special regards during Durga Puja. It is a long carried tradition that the soil from the colonies of the sex workers are mixed with the clay particles. The collected clay particles are used to carve the idol of Goddess Durga. It is considered as a holy process. Now, let's find out the reasons for doing so:
This act would make them feel a part of the normalized society.
This, in turn, also describes the soil inside the doorstep of the sex workers as impure. Hence, the soil particles are collected ahead of the exterior doorstep.
Be it any cause, the soil from the courtyards of the sex workers are considered virtuous. This practice is most prevalent in Nishiddho Pallis of Kolkata or the forbidden lanes of Kolkata. After the soil is collected, it is used by the artisans and utilized in their sculpting work.
Durga Puja is going to commence from Shashthi. But, the festive mood captures the mind of the devotees from the day of Mahalaya. But, what is Mahalaya?
Durga Puja : Mahalaya
On Mahalaya, Mahishasura Mardini or Goddess Durga is invited to come down to earth. Mahalaya is observed a week before the festival of Durga Puja or Shashthi. Mahalaya has indeed become the first day of Durga Puja for the Bengalis. On the day of Mahalaya, people especially Bengalis wake up at dawn and tune their radios to listen to "Mahishasura Mardini". Mahishasura Mardini Karyakrama is a radio show which has gained immense popularity since the golden era that depicts the journey from birth of Durga to the emergence of Mahishasura Mardini.
Till Shashthi, the air already attains the festive mood as the Durga Puja approaches. Durga Puja begins on Shashthi as Goddess Durga accepts the requests of the earthlings and descends on earth.
Durga Puja : Shashthi
On the day of Shashthi, Mahishasura Mardini is welcomed, as she comes down on earth for a period of five days. Daks or leather instruments increase the fanfare of her arrival. Kalparamba Puja is performed which is later followed by Bodhan and Adivas.
On Shashthi, idols of Goddess Durga are installed in the worshipping place with special Pujas and customs.
Durga Puja : Saptami
On Saptami, Goddess durga is worshiped along with nine types of plants. On Saptami or the second day of Durga Puja, Kolabou or banana plant is provided with a holy bath before the arrival of dawn. The nine forms of plants that are worshiped on Saptami refers to the nine forms of Goddess Durga. They are also known as Nabapatrika, which is also observed as a festival by the peasants, wishing for better harvest in the upcoming harvest season.
Durga Puja : Ashtami
Pushpanjali is the main feature on the day of Ashtami. It is also known as Mahashtami. The day commences with the chanting of Sanskrit recitals followed by Pushpanjali. Ashtami is regarded as the most important day of the festival of Durga Puja. In some regions, Kumari Puja is held where young, unmarried girls are worshiped as the mother Goddess. The day ends with Sandhi Puja in the evening. Sandhi Puja is followed by evening Aarti.
Durga Puja : Navami
Sandhi Puja declares the beginning of Navami. On Navami, Bhog (sacred food offering) is prepared for the Mahishasura Mardini. This is later distributed among the devotees as Prasad. Dhunuchi dance is a prime feature that takes place on the day of Navami. The Dhunuchi dance adds more festivity to the air in Durga Puja. The next day is Vijayadashami or Dussehra.
Durga Puja : Vijaya Dashami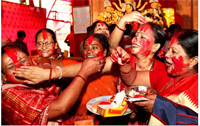 This is the day when the turn for bidding a farewell to Mahishasura Mardini (Durga Devi) arrives. Sindoor Khela or vermilion act is performed on Vijayadashami, where married women smear vermilion on each other's face. A grand farewell is expected as Goddess Durga is on her way to return to heaven.
On Vijayadashami, idols of Durga are immersed in the rivers or lakes. This event is known as Durga Visarjan. This marks the end of Durga Puja with crying ambience all around. Devotees cheer during Visarjan "Asche bochor abar hobe" which states that there will always be the next year as Goddess Durga will transcend again.
Durga Puja is more than just five days of religious worship, where Goddess Durga or Mahishasura Mardini, is paid ritual regards. It is a frolic carnival in the state of West Bengal and for the Bengalis outside. During these five days, Pandals are created around Kolkata and other sub-urban regions of West Bengal.
Durga Puja is widely celebrated in parts of Delhi as well. In places outside Bengal, people from the Bengali community indulge themselves into an ambient get-together process. Goddess Durga is also worshiped in parts of North India and western parts of India, but it's West Bengal where the festival of Durga Puja is celebrated with such enthusiasm.
Talking about Pandals, theme-based Pandals have gained enormous popularity in the modern era in Bengal. In theme-based decorations, Pandals are crafted according to existing or pre-existing trends in the society.
Durga Puja becomes the ground for casual gatherings such as Adda, where people gather around to enroll themselves in casual but interesting topics. This is a common trend in the streets of Bengal. Durga Puja is all set to bring together the Bengalis once again. In Durga Puja, people adorn themselves to welcome Goddess Durga on earth once again, after a mournful year of divine separation.
MyKundali wishes you all Happy Durga Puja..!