Hanuman Jayanti 2019: Day To Adore The Monkey Lord!
This year Hanuman jayanti will be celebrated on Friday, April 19, 2019. It is celebrated to commemorate the birth of Lord Hanuman. According to the Hindu Calendar, this day observed on a Purnima day or full moon day of Chaitra month. As per our Scriptures, Lord Hanuman is considered as an incarnation of Lord Shiva. Read on to know more..
Hanuman Jayanti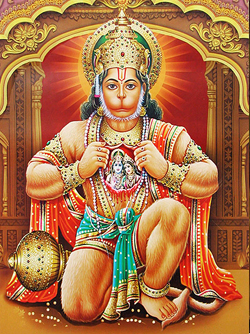 Hanuman Jayanti is a day dedicated to worshiping the Vanara God, Lord Hanuman. This day is celebrated as the birthday of Lord Hanuman. As per the Hindu calendar, the 15th day of Shukla Paksha, during the month of Chaitra, is celebrated as Hanuman Jayanti. Lord Hanuman is considered to be the greatest devotee of Lord Rama. So, we at MyKundali, bring to you each and every detail about Lord Hanuman, the 11th Avatar of Lord Shiva on this Hanuman Jayanti.
Hanuman Jayanti is also known as Chaitra Purnima, as it is celebrated in the month of Chaitra, which is April-May as per the Hindu Lunar calendar. In different parts of India, Hanuman Jayanti is celebrated in different months. This differentiation is because of the difference in the dates of Hindu calendar. In Orissa, Hanuman Jayanti is celebrated during the Oriya month of Vaishakha, while Tamils observe Hanuman Jayanti in the Tamil month of Margazhi.
In India, Lord Hanuman is worshiped by various names i.e Sankat Mochan, Bajrangbali, Anjaneya, Bajrang Bali, Maruti, Pavan Kumar, Kesari Nandan, Bajrangi, Anjani Putra, Pavan Putra, Rudra, Mahavira.
Now, as we have come to know what Hanuman Jayanti is, let's know the dates for celebrating Hanuman Jayanti in 2019.
Hanuman Jayanti 2019: Date
| Event | Day | Date |
| --- | --- | --- |
| Hanuman Jayanti 2019 | Friday | April 19 |
Hopefully, Hanuman Jayanti 2019 date will help you to observe the festival dedicated to Sankat Mochan with full devotion.
Hanuman Jayanti 2019: Significance
Now, we all know that Hanuman jayanti is celebrated as the birth of Lord Hanuman, but it is extremely significant to know why he is worshiped in this manner? Why was Lord Hanuman regarded as the greatest devotee of Lord Rama till date? Let's find out...
As per the Hindu mythology, Lord Hanuman is the 11th incarnation of Lord Shiva. Lord Hanuman is believed to born to Anjana and Kapiraj Kesari (King of vanara community).
The story begins when a great saint Angira visits the heaven king Indra. Indra in pride of his kingdom and wealth, organises a dance for the saint by his most beautiful Apsara (damsel), Punjikasthala. As the saint was not interested in such dance performance, he started meditating on the name of his Lord. Once, the event came to an end, Indra asked the saint as if he liked the performance. Saint Angira in response, said that he had no interest in such dance and was in deep meditation. On hearing this, the Apsara started dismaying the saint.
Thus, the saint cursed that Apsara that she would be degraded from Swarg (heaven) and will take birth as a female monkey on earth. Apsara realized her mistake and asked for forgiveness. On this, the saint said that he couldn't take his words back but, Punjikasthala would be blessed with a son, who would be a great devotee of Primatama. Hence, Punjikasthala later, as Anjani, gave birth to Lord Hanuman with the great five divine factors. These factors were:
Curse to Punjikasthala
Blessings of the saint Angira
Anjani prayers to Lord Shiva
Lord Shiva had to take rebirth on earth
Blessings of Vayu Deva (God) i.e the way Lord Hanuman is worshiped as Pawanputra.
Putreshti Yaga's fruit. (ritual for offerings along with mantras i.e done for a son)
Thus, on the day of Hanuman Jayanti, Lord Hanuman took birth and the entire Vanara community and Devatas (gods), celebrated this day in his name.
This was how Anjani Pawan Putra was born and named as Maruti. But, what is the reason majority of us worship him as 'Lord Hanuman' instead of his birth name, Maruti. Let's find out..
Lord Hanuman is considered to be a passionate and fervid devotee of Lord Rama. The story begins at the time of Rama's exile when Lord Hanuman met his deity (Lord Rama).
Hanuman played a pivotal role when Maa Sita was abducted by Ravana and kept in Ashok Vatika in Lanka. Nobody was able to find Sita, but Hanuman with his powers, brains, and ability, was able to find out Mata Sita.
Lord Hanuman had the power to disguise his appearance, when Ravana got to know about this, he decided to burn Lord Hanuman's tail. But he lengthened his tail and burnt a large part of Lanka with a burning tail. He took the message of Maa Sita and told Lord Rama to rescue her from Ravana. This step resulted in a war between Lord Rama and Ravana.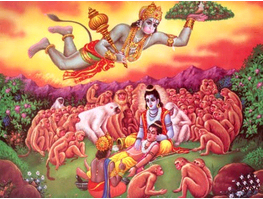 During the war, Lakshman (Lord Rama's brother) was injured and there was no hope for him to survive. As told by Viad (doctor) that the mountains of Dronagiri had a life saving medicine, named as Sanjivani, Lord Hanuman with his special powers carried the entire Parvat, in order to save the life of Lakshman. Post this event, he was regarded as Lord Rama's dear brother.
Once the war came to an end, Lord Rama along with Mata Sita and brother Laxman, returned to Ayodhya. Lord Hanuman devoted his entire life to Lord Rama.
It is also believed that Lord Hanuman is the only god who stays on earth with all his devotees. This is because of the boon given to Lord Hanuman by Lord Rama for his sincere Bhakti (devotion) and dedication.
Considering all the above incidents, we can say that these are the reasons why we worship Maruti as Lord Hanuman.
Hence, be it any name like Sankat Mochan,
Bajrangbali, Anjaneya, Bajrang Bali, Maruti, Pavan Kumar, Kesari Nandan, Bajrangi, Anjani Putra, Pawan Putra, Rudra, Mahavir, the Almighty is always there with us in our good or bad times
Now, as you know the story behind worshiping Lord Hanuman, let's find out how to celebrate Hanuman Jayanti.
Hanuman Jayanti : Celebrations
Hanuman Jayanti Vrat (Hanuman Jayanti fast) is observed by Maruti devotees. Hanuman Jayanti fast is popularly known as Hanuman Jayanti Upvaas.
In Maharashtra, Hanuman Jayanti fast is observed by Maharashtrians. They observe the fast one day prior to Hanuman Jayanti, whereas in the northern part of the country, it is celebrated on the same day of Hanuman Jayanti.
The Hanuman Jayanti Upvaas comes to an end on the next day morning.
Hanuman Jayanti Vrat is mostly observed by the Indian men. The fast is mostly observed for 24-hours, although, people also observe a partial-day Vrat.
Hanuman Jayanti Fast begins early in the morning. Devotees take a holy bath, clean the Puja Sthan (place of worship) and establish the idols or images of Lord Hanuman.
Lord Hanuman idols are smeared with Sindoor (vermillion), flowers, and sweets.
On the day of Hanuman Jayanti, people visit the nearest Maruti temple and offer their prayers. People recite Hanuman Chalisa & Hanuman Doha the whole day, and various Mantras of Lord Rama and Sankat Mochan are chanted 108 times.
These are some of the celebrations which will be observed during Hanuman Jayanti, and he will act as protector of mankind.
This Hanuman Jayanti, worship and pray to Maruti Nanda and receive the blessings of Lord Rama and Lord Shiva along with that.
Hence, it is always stated that lord does not see your material wealth or what offerings you have made to him. All that Almighty sees is who prays selflessly to him and who worships the lord with full devotion & dedication. Thus, he will always stand by his sincere devotees.
So, this Hanuman Jayanti, pray to Lord Hanuman, wholeheartedly and witness the results.
MyKundali wishes Happy Hanuman Jayanti to all..!