Dussehra 2019 : Burn The Negativity Within!
Dussehra is one of the most important festival celebrated among Hindus. It is celebrated to spread the message of triumph of good over evil. According to the Hindu Calendar, it is celebrated on the 10th day of Shukla Paksha in the month of Ashwin. This year Dussehra will be marked on Tuesday, October 8, 2019. It is also known as Vijayadashami. To know more about this festival, read on...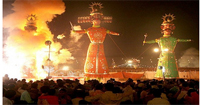 Dussehra : Significance Of Dasara!
Dussehra or Dasara conveys the same message every year that, no matter how big the evil power is, goodness always triumphs. It teaches us, that we should always follow the good virtues in life.
Dasara or Vijayadashami is considered as the beginning of new harvest season. Different rituals are performed by the farmers for reviving the soil's fertility, by receiving the blessings of Mother Goddess. During the nine days of Sharada Navaratri, Ramlila, the theoretical representation of Lord Rama's life is performed for the spiritual awakening of people. Vijayadashami or Dussehra is observed on the tenth day after Ramlila.
Dussehra : Legends of Vijaya Dashmi
Different parts of the country follow different legends of Dasara or Vijayadashami. In parts of North India, the legend of Lord Rama is the main reason of celebrating Dussehra. Whereas, in South India and East India, victory of Goddess Maa Durga over the demon Mahishasura is the main reason for celebrating Vijayadashami as Durgotsav.
Legend Of Lord Rama
Lord Rama is the seventh Avatar (incarnation) of Lord Vishnu. He came on earth to destroy the kingdom of demon Ravana. There is a long story behind the legend of Rama, but the abduction of his wife, Sita is the main reason for Ravana's demise.
During the Agyatvas (exile) of Lord Rama, Lakshman and Mata Sita, Ravana went to their place for taking revenge of his sisters' (Surpanakha) insult by Lakshman. Although, he did not find Lord Rama and Lakshman at the place, Sita was alone at home. He was captivated by the beauty of Sita; hence, he forcefully kidnapped and brought her to his kingdom, Lanka.
When Lord Rama came to know about this, he prepared an army to fight against Ravana in order to rescue Mata Sita. He was supported by Vanara Sena (an army of monkeys) that included, Hanuman (Rama's ardent follower).
They entered into a fight with Ravana and successfully rescued Sita Mata. Lord Rama killed the wicked demon Ravana, on the day of Dussehra or Vijayadashami. Since then, the day is celebrated as Dussehra or Dasara as the victory of good over evil.
Let's oath together to kill our inner evil on the day of Dussehra.
Legend Of Mahishasura
Mahishasura was an arrogant demon, who won the favor of Lord Shiva after his strict dedication toward the Lord. He wanted that, people should worship him as someone equivalent to god.
Lord Shiva blessed him with a boon that neither a man, nor any deity could kill him. After getting the blessings of Lord Shiva, his cruelty exceeded beyond limits.
Then Lord Shiva, Lord Vishnu, and Lord Brahma came together and merged their powers that resulted in the birth of a woman warrior, Maa Durga.
Maa Durga entered into a fight with Mahishasura and defeated him on the day of Vijayadashami or Dussehra. Durgotsav is the name of the festival which is popularly used in the context of Maa Durga's victory over Mahishasura. Durgotsav is mainly celebrated in South India. In East India, the victory is celebrated as Durga Puja.
Dussehra : Celebrations Of Vijayadashami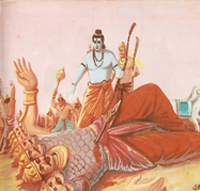 Before celebrating Vijayadashami or Dussehra 2019, let's talk about the different ways for celebrating the festival, all around the country and outside as well.
Dussehra Celebrations In North India As Ramlila
In North India, the main legend behind the celebrations of Dussehra is Lord Rama. Therefore, there is a tradition of performing Ramlila every year. Ramlila is performed during the nine divine days of Sharad Navratri. On the following tenth day, Dasara is celebrated.
These Ramlilas are organised by Ramlila committees, at different places for the spiritual awakening of people. On Dussehra or Vijayadashami, the effigies of Ravana, Kumbhakarna, Meghnath are burnt. Large number of people gather, to enjoy Ramlila. Just like any other year, Dussehra 2019 will also witness the similar celebration in North India.
Dussehra Celebrations In Himachal Pradesh
Kullu Dussehra is a very famous event in Himachal Pradesh. Infact, state government has awarded the status of international festival to Kullu Dussehra or Vijayadashami. Kullu Dussehra attracts lots of tourists and it proves to be a boon for Himachal Tourism.
Kullu Dussehra begins on the day of Vijayadashami, and continues till next seven days. The Kullu Dussehra 2019 will be celebrated on 30th September. The main deity who is worshiped during Kullu Dussehra is Lord Raghunath, with thousands of other local deities.
Dussehra : Celebrations As Durga Puja In Bengal And Mysore
Victory of Maa Durga over the demon Mahishasura is the main legend behind Dasara celebrations in Mysore and Bengal. So, the festival is popularly known as Durga Puja or Durgotsav. Different Durga Puja Pandals are organized throughout the city. Traditional dance is performed with devotional songs and Bhog is offered to Maa Durga, in these Pandals.
Durgotsav or Vijayadashami is also considered an important day for starting formal education. Students keep and worship their books in front of Maa Durga on Durgotsav or Vijayadashami. This auspicious day is also considered good for starting any new business.
Dussehra Celebrations In Maharashtra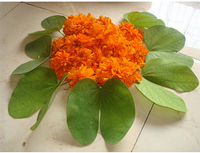 In Maharashtra, the idols that are established on the first day of Sharad Navratri are immersed in water, on Dasara.
People worship Apta (Bauhinia Racemosa) tree and exchange its leaves for wishing good luck in future. The golden Marigold flower is also used by people for decorating homes and worshiping.
Maharashtrians also consider Dasara as an important day, for starting new work or business.
Dussehra Celebrations In Nepal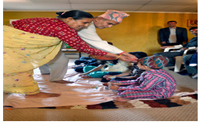 Vijayadashami or Dussehra is one of the biggest festivals of Nepal. They celebrate Dussehra as Dashain. Longest holidays of the country are observed during these days. Vijayadashami is celebrated by Hindu and non Hindu people of Nepal.
The elder members of the family apply Tika, and put Jamara, behind the ears of the younger members of the family. Jamara is a kind of grass, that is grown on the first day of Sharada Navaratri.
People offer large amount of goat's and buffalo's meat and chicken to Maa Durga. The people also consume the meat, as the blessed food of god.
Dussehra Celebrations In Bangladesh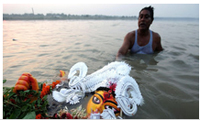 Dussehra or Vijayadashami is one of the biggest festivals of Bangladesh. It is celebrated for up to five days. They worship Maa Durga and submerge her idols in water.
People of Bangladesh also worship water with turmeric and other holy items, for higher crop yielding.
A festival can never be complete without sensing the aroma of delicious food. Now, we will take a look at the food delicacies of Dussehra.
Delicacies of Dussehra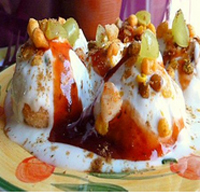 Dussehra or Vijayadashami is one of the biggest festivals of India. Some famous traditional dishes are prepared during the celebrations, to make it more special.
Famous Snacks Offered On Dussehra
Dhokla (Gujarati dish made with fermented batter)
Matar Kulcha (leavened Indian bread)
Gulab Jamun (milk based dessert)
Badam halwa (sweet confections)
Kheer (boiled rice porridge in milk)
Celebrate Vijayadashami with full fun and enjoyment in its vivid colors, either by watching Ram Leela and Ravan Dehan in North India or by worshiping Maa Durga in South India. Also, try to follow the values of Lord Rama and Maa Durga in life.
Dussehra or Vijayadashami has a special significance in our lives, as it holds the reason that established humanity on earth. Hence, it will always be regarded as the prime cause of our sustenance. So, do not miss the chance to venerate the Lord this Dussehra. Be prepared to invoke the blessings of godly virtues!
MyKundali wishes Happy Dussehra to all..!