Amarnath Yatra 2019: A Tricky Journey To The Heavenly Abode!
Amarnath Yatra 2019 opening date and schedule is here. Do you know where the secret of immortality has been preserved? We are here to enclose you everything about the treasure island of immortality i.e. Amarnath Cave. Read on to know more about Amarnath Yatra in 2019.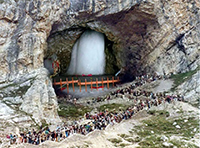 The time duration of June to August (Ashad Purnima) is the time for Amarnath Yatra. This holy pilgrimage is very popular, sacred and holds immense religious importance in Hinduism. The divine Amarnath temple is situated in the beautiful North Indian state, Jammu & Kashmir. Like every year, Amarnath Yatra in 2019 will also witness a large number of devotees paying visit to the Amarnath temple. You can also show your respect and honor for Lord Shiva by worshiping the Shiva Lingam of Amarnath cave through Amarnath Yatra 2019.
Amarnath Yatra 2019: Amarnath Yatra 2019 Dates
| Event | Yatra Duration |
| --- | --- |
| Amarnath Yatra 2019 | Jul 2 (Tue) - Aug 15 (Thu) |
Amarnath Yatra 2019: The Legend Of Amarnath Temple
According to the Amarnath Dham story, once Maa Parvati had asked Lord Shiva about how to get immortal. This question amazed Shiva and he tried to divert the topic. But Parvati was not ready to leave the question and insisted to know the story.
On this, Shiva told her that the secret to get immortal was known only to the trinity of Brahma, Vishnu, and Mahesh. He also told her that whoever will listen to this story, he/she will become immortal. As Parvati was desperate to know the story; therefore, Lord Shiva started thinking of a place where no one resided.
After thinking for a while, he chose Amarnath cave as the safest place to narrate the story to Parvati. On their way to the cave, Lord Shiva removed his sandalwood Tilak at Chandanwari, fled at Pissu top and his Nags (Anantnag and Sheshnag) at Sheshnag. After this, he stepped inside the Amarnath cave with Maa Parvati.
After entering inside the cave, Shiva started narrating the story to Parvati. While listening to the story, Maa Parvati slept in between, which was not realized by the Lord and he went on telling the story. At the same time, two white pigeons were sitting there. They heard the whole story of becoming immortal.
After the story was over, Shiva found Parvati sleeping. He wondered that if she was sleeping then who had heard the story. As he was looking around, he saw those two pigeons and became angry. He knew that the noone else, but the pigeons were listening to the story. Out of extreme anger, when the lord was about to kill the pigeons, they immediately said that this act of Shiva will make the story false.
On this, Shiva left them alive and blessed them with the boon that they will live in the cave forever, as the symbol of Shiva and Parvati. As per the beliefs, even today, those two pigeons are seen by the devotees who visit Amarnath.
Amarnath Yatra 2019: How Was The Holy Cave Discovered?
Long ago, there was a shepherd, Buta Malik. Once, a saint gave him a bag which was full of coal. However, when he opened the bag, he found it full of gold coins. Seeing gold coins, he was overjoyed and thought of thanking the saint. Thus, he ran immediately to thank him, but was not able to find him at that very place. As a matter of surprise, he found the holy cave and Shivalinga at the same place. He told about this incident to the villagers. On hearing the story, the villagers declared that place to be sacred and holy for pilgrimage. Thus, Amarnath temple came into existence from that day.
According to another story, in earlier times, the Kashmir valley was beneath the water. The water of the valley was drained by Rishi Kashyap via many rivers. During that time, Bhrigu Rishi paid a visit to the Himalayas and found the holy cave. After this incident, the place became holy and a centre of pilgrimage for the people.
Amarnath Yatra 2019: The Pious Amarnath Shiv Lingam
The Lingam of Amarnath temple is formed of snow and is not a permanent one. This Shiva Lingam is formed on its own and is thus, known as Swayambhu Himani Shivlinga. The formation of Amarnath Shivling starts from Ashadh Purnima and gains it final shape on Shravan Purnima. The Lingam is strong, hard and remains surrounded by snow which keeps on falling inside the Amarnath cave. It is also believed that water of Ramkund Lake, which is located at the top of the cave falls on the Lingam drop by drop.
Amarnath Yatra 2019: Amarnath Yatra Rules
The journey to Amarnath is very difficult, as this place has lack of oxygen. Still, Amarnath sees a lot of devotees every year during Amarnath Yatra. As this journey is a major one and quite risky; hence, some mandatory rules are associated with the pilgrimage.
Compulsory registration for all the devotees
Travelling facilities provided by private and government institutions
Proper health check up
Essential needs like food, oxygen supply system, medicines, proper clothes etc. are made assured before the Amarnath Yatra
Amarnath Yatra 2019: The Different Stages of Yatra
Following are the different stages of Amarnath Yatra:
Departure Route To Amarnath Temple
Stage1 - Pahalgam to Chandanwari
Stage2 - Chandanwadi to Sheshnag
Stage 3 - Sheshnag To Panchtarni
Stage 4 - Panchtarni To Amarnath Cave
Return Route From Amarnath Temple
Stage 1 - Panchtarni To Chandanwadi
Stage 2 - Chandanwadi To Pahalgam
Amarnath Yatra 2019: How To Reach Amarnath Temple?
Amarnath can be reached via 2 routes. One is through Pahalgam and other is through Baltal. Out of these two routes, Pahalgam is the most preferred one, as it is safer and more comfortable. For this reason, this is the first choice of all the travellers.
Amarnath Yatra 2019: Some Careful Tips
Before beginning your Amarnath Yatra, get yourself physically checked, as Amarnath temple is located at an altitude of approximately 14,000 ft.
Materials like woolen clothes, rain coat, bedding items, sleeping bag, walking stick, torch etc. will help in facilitating your Amarnath Yatra.
Eatables, packed food items and health drinks are a must while going on Amarnath Yatra.
Take good care of your luggage and stay alert 24*7.
Make Amarnath Yatra safe and fruitful by listening and following all the instructions of the Yatra guide.
A sufficient amount of money is also very necessary on Amarnath Yatra.
Though medical facilities will be provided to you on Amarnath Yatra, still carrying your own medical kit, will be a good option.
Stay away from points with warning or danger notices.
In the tricky routes, go calmly and do not try to overtake fellow passengers.
Amarnath Yatra is a life time experience and you can live this experience this year with Amarnath Yatra 2019. This holy pilgrimage will help you in connecting with Lord Shiva and seeking his blessings & divine glory.
Amarnath Yatra in 2019 will not only let you visit this heavenly place, but will also give your mind its share of peace and calmness. Start your preparations for Amarnath Yatra in 2019 and please Lord Shiva for your and your family's well being.