Aries Horoscope 2014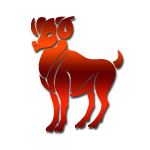 Aries Horoscope 2014: General Predictions
Aries Horoscope 2014 predicts that this year would not be favorable for partnerships and business ventures. Your aggressive and freckle behavior may land you in trouble. According to Horoscope 2014 for Aries, your ambitions would increase this year and you may gain through this. You may not be able to reap the benefits, which you always desire. In 2014, you need to be more careful about landing up in situations which you do not like. Accidents and unfortunate incidences may mar the happiness this year. As per Aries 2014 astrology, you may not get favor through dealings in land, buildings, agriculture, and property. Those involved in transport business may find good returns during this year. Keep an eye on your colleagues. Business persons may find this year very difficult to carry on brisk business. Quarrels with family members may suddenly cause finances to get into troubles. Short distance travel is indicated for business professionals. Safeguard your valuables. Astrology for 2014 suggests you to be cautious at job front, as there is every possibility of being confronted by government agencies. General mental stress is possible.
Aries Horoscope 2014: Business - Career
With Saturn influencing your career, there may not be major changes in the 1st half of the year. Aries 2014 horoscope predicts that businessmen may feel the heat and there may not be much progress in projects/ dealings. You may not be able to expand your existing office and face delays/ obstacles and difficulties in partnerships. As per Aries 2014 astrology, communication with colleagues from other cities or countries would decline and may not be able to help you achieve your goals and targets. In the first half of the year, you would have disagreements/ obstacles, which may cause considerable difficulties in corporate affairs. In 2014, a change in leadership may hamper your progress in the job. An existing problem is also likely to resurface and give trouble, as per Aries 2014 predictions. In the second half of the year, the problems may become even more difficult to handle. Conflicts with partners/ colleagues may finally lead to a complete break of relations. As a result, you may have to face depression.
Aries Horoscope 2014: Finance
Despite some professional problems, astrology 2014 for Aries predicts that financial status is likely to be quite stable. You can expect to get loans/credits and help/support of parents or close person. 2014 would be a difficult year for you in regards of finances.
Aries Horoscope 2014: Love - Relationships
As per 2014 predictions, this year is not good for lovers. Love relations may not go smoothly in 2014. According to Aries 2014 astrology, it may be especially difficult for couples having problems. Conflicts may increase and parting is quite possible in 2014. The second half of the year may be more difficult, when both of you would not compromise. Besides, you are probable to have serious disagreements with relatives that can be especially difficult to handle after June 2014. Horoscope 2014 for Aries predicts that relationships outside marriage may harm your reputation and result in scandals. You may also lose faith of your close friends, relatives or family members. Therefore, 2014 astrology suggests you to be careful, tolerant and wise. 2014 is a year for repair re-arrangement of your relationship.
Aries Horoscope 2014: Health
In 2014, your energy levels are not likely to be high. Depression and loss of faith may hamper your mind, according to 2014 predictions. Stress and strain would take a toll on the body. Hence, you have to be careful. Take plenty of rest and refrain from acting without thinking.
Let's have a look at the prediction 2014 for individual stars consisting Aries:
Ashwini Horoscope 2014
2014 astrology predictions says that you may face difficulties in relationships and your married life is not likely to be so happy. Disputes and obstacles in your domestic life is likely to provide a tough time in the house. According to 2014 horoscope, you may not be able to take decisions at the right time. Confusion and dishonesty in action may give regrets in the future.
Bharani Horoscope 2014
Partnerships and love life is not favorable for you in 2014. As per the 2014 predictions, communication and convincing abilities may be reduced. Horoscope 2014 has foretold that you would be practical in nature and take decisions based on the head than the heart. 2014 astrology says that financial situation will improve this year.
Krittika Horoscope 2014
In 2014, there would be an increase in wealth this year. You will have high ego and your ability to show leadership skills will increase. Help from society/government agencies will improve and you would benefit in this year.
Aries Horoscope 2014: Suggestion & Remedies
It is advised to perform remedies of Mars for overcoming the obstacles:
Worship the ruling deities Kartikeya and Hanuman.
The Kartikeya mantra: "Om Saravanabhavaya Namah"
The Hanuman mantra: "Om Ham Hanumate Namah"
Recite Kartikeya Stotra or Hanuman Chalisa.
Japa of the Mars mantra: Om kram kreem kroum sah bhaumaya namah, 7000 times in 40 days.
Recite the Mangala stotra.
Charity: Donate Masoor dal (red lentils) on Tuesdays.
Fasting: On Tuesdays.
Pooja: Kartikeya pooja or Rudrabhishekha.
Rudraksha: Wear a 3 mukhi Rudraksha
Gemstone: Coral (Moonga)
Jadi: Anant Mool
By SN Rao