IPL 2019 Predictions, IPL Schedule, IPL Venue
IPL is a successful venture started by the Indian Cricket Board, which is formally known as BCCI (Board of Control for Cricket in India). This T20 cricketing event has become massively successful, not just in India but outside the country too. It is the most cash rich T20 league in the world at present, and it features total 8 formidably powerful as well as perfectly balanced teams. Every match in IPL displays close contest between the teams which have been formed with talented young Indian and overseas players.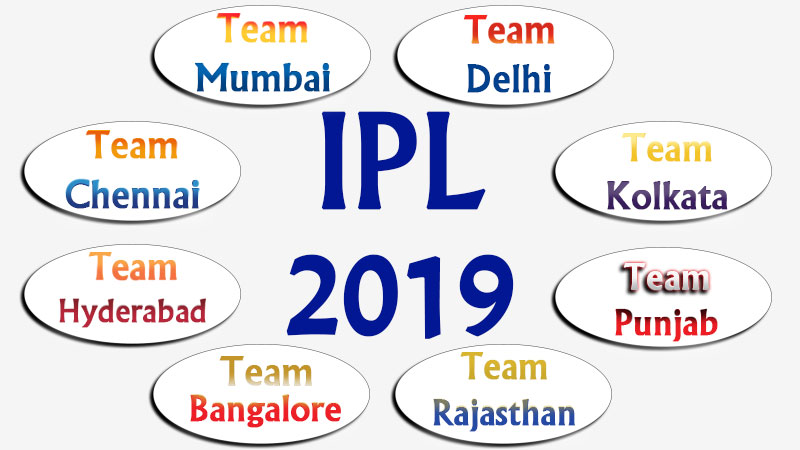 The 2019 edition of IPL is anticipated to be quite a close contest, as all teams have been formed with sheer meticulousness by the respective franchises. Furthermore, in the auction, team franchise owners will get further opportunities to purchase new Indian and overseas players. The tournament is poised to set new heights in cricketing entertainment. As popularity is rising, curiosity is also increasing for this tournament.
IPL 12 Schedule
All the teams in the IPL have the capability of becoming the champion and that is the most fascinating thing about this incredible tournament. Team owners have also become quite experienced in terms of picking the team members in auctions to create a well-balanced team. Thus, every team has become perfectly balanced and can potentially win the tournament. Few teams, like Royal Challengers Bangalore (RCB), Kings XI Punjab (KXIP) and Delhi Daredevils (DD), have never lifted the trophy. These teams are striving hard to put tough competition before other contenders for the IPL 2019 trophy.
IPL in 2019 has been scheduled to start from 23 March. Due to general election in India, it could be hosted outside the country. In that case, pitch and weather shall be different. From the point of view of astrology, predictions can vary due to many factors. If played outside India, predictions will be completely different due to change of place. Our website will update match by match winning probability for every game in IPL in 2019. Venue, team captains, schedule timing and many other factors have been noted to make the predictions as much accurate as possible.
As usual, there will be total eight teams in the upcoming version of the IPL. They shall contest against each other in round robin format. That means each team will play two matches against other teams. One match shall be home match and other match shall be away match. Based on these matches, league table shall be maintained. The top four teams on the league table shall be considered as the qualifying teams for the next round. The next round will decide two finalists through knockout match fixtures. Eventually, the last two standing teams will play for the glory.
Also Read: Public Holidays in 2019
IPL 2019 Point Table
IPL in 2019 will be full of entertainment, as all teams have picked up some of the best performing cricketers from different parts of the world. The tournament has always been the platform for the newcomers. In different editions, world has noted rise of new cricketing heroes through the IPL. This year, viewers would surely find new and exciting talents along with well-established professional T20 players.
IPL 2019 Squads
IPL started with 8 teams and later added two more. However, it went into 8-teams setup once again, as the BCCI wants the tournament to be shorter and more exciting. The present eight teams of IPL are:
Kolkata Knight Riders
Delhi Daredevils
Kings XI Punjab
Mumbai Indians
Chennai Super Kings
Royal Challengers Bangalore
Rajasthan Royals
Sunrisers Hyderabad
All these teams have at least 15 to a maximum of 25 team members. The playing eleven should have four foreign players, along with 7 Indian players. Every team is ready to do well in this upcoming 2019 IPL season, as all the sides look quite balanced this time.
IPL 12 Stats
Since IPL is a month long tournament, cricket lovers get to see many exciting matches. They observe the rise of new talents and at the same time, fall of some veterans. IPL is all about a lot of ups and downs for the players. To get match by match predictions for the 2019 IPL edition, you need to keep eye on our website. We shall come up with the most accurate predictions before every match.
In 2018 IPL, cricket world had observed the rise of many young players. These young emerging players will definitely do better in the upcoming edition. IPL in 2019 will be full of entertainment, as players always try to deliver their 100% to get recognized by the IPL franchises and BCCI.
Also Read: Love Horoscope 2019
IPL 12 Venues
Each team has a fixed venue, which is considered as home ground. As per the format of the play, each team will get the chance to play one home match against all other teams. In this way, teams will play equal number of home and away matches. Though hosted in India last time, IPL in 2019 is anticipated to be hosted outside India due to General Elections in India at that time which may change this norm of the play.