Gemini Horoscope 2019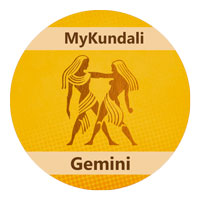 Read Gemini Horoscope 2019 on MyKundali for detailed astrological predictions. The natives of Gemini zodiac sign are physically agile and spotful. People appreciate your intellectual abilities. Apart from this, you have different looks in the crowd by its versatility. According to Gemini Horoscope 2019 this year will be important for your life. From career standpoint you will get success this year and if you do business you will also grow with it. In the workplace, you will be able to make the challenges even more efficient. Financially you will also get benefits this year. Although the beginning of the year may be a little weak. At this time investing in the stock market will be a little risky and also control the expenditure. This year, students will get many opportunities to move forward in studies. Year 2019 will be best for students studying undergraduate, management, engineering and medical. After the first trimester of the year, happiness will come in the house. The situation of reconciliation will be seen among the families, which will lead to unity in the family.
WORK AND BUSINESS HOROSCOPE 2019 FOR GEMINI
Well, for the jovial Geminis, they have to set their priorities right, in the beginning of the year regarding professional growth and climbing the professional ladder. You have to make an effort not to move away from your priorities during the year. The beginning of the year seems good for you, you may be able to create a niche for yourself and get appreciation at your workplace for your efforts. Luck will favour you in the first quarter of the new year. You may find opportunities to travel abroad for meetings, seminars and conferences. More opportunities for business partnerships and joint ventures may open up in February. You may remain at your creative best during this period. You may have to work really hard to meet deadlines in February. However, your work pressure may ease around March, but April may again be a period to prove yourself with increased work efficiency and capacity to work under pressure but gains will be high. You may need to add more skills to your profile, new concepts and technology may interest you. You may make new associations at work place and you may find yourself propelled towards reaching your goals during May. As per Gemini horoscope 2019, during the middle of the year networking and placing/positioning yourself in a certain profile or what you represent, by honing your skills may be important for career growth. Natives of Gemini zodiac sign into some business may see a slower but steady growth in their ventures. You may not receive much help from your colleagues during this period, it may be a one man show. But you may grow and learn due to some adversaries at work place. Those aspiring for good jobs may find jobs with help from acquaintances, seniors, or by self efforts from July onwards. September may be a good month for placements and employments. Foreign travel for work may be possible. The last quarter of the year may be favourable for showcasing your talents, win appreciation of seniors, for increments, promotions, recognition and so on. As per Gemini Horoscope 2019 you may win accolades/rewards for your efforts ,during the end of the year which may be due, for self efforts put in with your intelligence. Businessmen may reap profits during this time of the year and may form a good network for expanding their business.
FINANCE HOROSCOPE 2019 FOR GEMINI
Finances seem good for most part of the year for Geminis. As per Horoscope 2019 for Gemini, a steady constant growth may be seen. The first quarter of the year may see some ups and downs on the financial front. Some sudden expenditure may arise in the family and expenses may spiral out of your control. Don't make investments in those ventures which seem risky or shaky. Speculators may earn a good sum of money by betting, speculation, share market etc. But it may not be very viable or a good option ,as you may not be able to enjoy the wealth if earned by unfair means. Businessmen may earn good profits during this period. Those in hospitality business may do well financially. People who earn interests by giving loans, or loans against pawns etc. may make good money. The working people will gain through hard work. Money will be earned by hard work in April. Avoid making money through the easy route. You may be cheated. All that glitters is not gold, after all. The following period seems good, but avoid givings loans to friends or acquaintances. Expenses may increase. You may gain from investments You may get back your stuck money, money from government schemes, , children's funds , and other sources during August. You may gain though lottery also. Those in media, advertising , coaching classes business ,lawyers may earn well and progress financially. You may invest money in joint ventures . Foreign investments may also yield good returns. Those who have applied for allotment for plots for building houses may be allotted lands during middle of the year. Doctors will also earn well. Ayurvedic and other holistic medicine practitioners may also see rise in finances. Natives of Gemini zodiac sign may inherit ancestral property or a legacy during the last quarter of the year. Geminis should focus on their enterprising spirit and stability during the whole year. You may invest in gold and precious metals in the festive season. The year may end with good savings and worthwhile spending for most Geminis.
EDUCATION HOROSCOPE 2019 FOR 2019
For students Jupiter may give great results in year 2019 regarding education. Students will get ample opportunities to excel in their studies. Those studying for higher post graduate studies, management students, engineering and medical students are also expected to do well during the year. Students must be regular and steady in their studies all through the year in order to avoid disappointments by last minute studying. The first quarter of the year seems excellent for all students. The later period may seem a little difficult for senior college level students as they may find difficulties in concentration and application of mind in studies. April may be an average month but for many Gemini students the April- May period may bring opportunities for studying abroad in prestigious universities. Students studying to become professional photographers, cinematographers, archeologists, those enrolled for spiritual studies, history etc. may benefit during this period. Those appearing for competitive exams my fare well and even get good jobs through them. During mid year, some disappointments in results are not ruled out for some students. They have to be careful not to lose their poise during exam period. Students from technical /technology fields should also be careful during this period. August may be a good period for students of all streams, they may succeed well through self efforts and conviction. September will again require a tough stand towards studies Saturn's aspect may goad you on a compel you for studying, even if you feel laziness. Students preparing for IAS and civil services may find the going good and may find success. Horoscope 2019 for Gemini says, students should honour their teachers, professors and mentors always, but the November-December period may bring benediction in form of blessings from their gurus.
FAMILY HOROSCOPE 2019 FOR GEMINI
Mixed results are expected on the family front for Geminis in 2019. Some issues with family members over wealth distribution or other personal issues may crop up, which may leave you tensed in the beginning of the year. You may be at wit's end figuring out solutions to such problems. Avoid heated arguments and unpleasantness. Things may be better after the first quarter of the new year. Relationships with children will be good. You may go overboard in order to fulfill their demands and indulge them. After the first quarter of the new year, you may develop a more spiritual attitude towards your spouse or partner. You may try to explore deeper meaning of life, life's purpose, philosophy, religion and dharma. You may be in two minds, whether to pursue philosophy for the self or to give in to material demands of the body. Your spouse may be supportive. You may develop a sudden urge or desire for earning a lot of wealth in a short period of time during the May-June period, which may create a turmoil in your mind, due to opposition of Saturn and Mars. You may be back to your normal self with the help of your partner. Eligible Geminis may think of settling down ion domestic life. You may travel to places of religious interest or a pilgrimage with family and friends during the July-August period. It may be a fulfilling experience for you. Health of children and elders in the family may be a cause of concern during September. Children may make you proud with their achievements in the last quarter of the year. Planetary transits during this period may bring cheer in domestic life. Relationship with spouse, children and parents will be sweet. A family get-together may be in the offing during November-December, which may bring a lot of happiness and peace. Many Geminis may tie the knot during this period.
LOVE HOROSCOPE 2019 FOR GEMINI
Geminis are advised to spend some extra time with their partner in the beginning of the year despite being busy with their respective careers. You must be present for your lover and patiently listen to them. You may meet someone, if you are single. You may get lucky and meet someone nearby. There are chances of meeting someone at your workplace too. Friendships at work place may transform into romance. It may be a cautious and a guarded form of a romantic relationship, in the first quarter of the year. Don't expect a mushy romance in the beginning. April may be a good month, love may blossom and commitments may be made. You may still think over and be careful before committing to anyone. The middle of the year may be fruitful for you, you may get lucky in matters of love and it would be a fulfilling experience for both partners. You may think of taking your renewed relationship to the next level, i.e contemplate on marriage. Rely on your gut feelings to make a decision during this period. Friends may mislead you or deter you. Take advice of well meaning friends and family to make the right decision. The August- September period seems smooth, with friends and family supporting you. You may even plan short getaways with your partner. Some differences of opinions are not ruled out, but they may not be of the serious types. You may get busy with your work during October. The last quarter of the year may be auspicious for you. You may get engaged and married with blessings of family members. You may settle down or get married this year.
HEALTH HOROSCOPE 2019 FOR GEMINI
For the natives of Gemini zodiac sign, health may cause concern intermittently. Diet should be taken care of and eating habits must be monitored. Carelessness in diet and eating habits may cause stomach related disorders. Be cautious and follow a nutritious and healthy diet regime religiously. The beginning of year seems good, but some problems like indigestion and acidity may arise. Problems may be more for people suffering from pitta prakriti. These problems may increase in the month of February. You may get relieved in March. Don't strain yourself during April, though you may feel to be brimming with energy. You may feel sapped of energy if you overstrain yourself. Some heat related problems or problems of chronic regarding the liver and stomach may be experienced during the mid year. Pregnant women should be careful with their health after the first quarter of the new year. As per horoscope 2019 for Geminis, care should be taken to avoid overindulgence in all matters, in order to enjoy good health. From June onwards, there may be less space for ego as you learn to let go and grow through helping others selflessly. You may open up your mind towards broader horizons and appreciate more emotions, which may help you to heal you internally and your spouse/partner may help you in such type of an emotional and spiritual healing. Keep a tab on overeating during the festive season. As per Gemini horoscope 2019, during the last phase of the year, you may find yourself physically and emotionally balanced, and you may enjoy very good health during this period.
REMEDIAL MEASURES
Plant a tulsi/holy basil plant/herb at home and take good care of it by watering it everyday.
Feeding cows with green grass or spinach will be beneficial.
Worshipping the Divine Mother Goddess may help to sail through rough times.
All colors may suit you but all shades of green and gray and lighter shades may prove to be lucky.
Emeralds may be lucky for you, but lucky gemstones may differ according to individual horoscopes. The dates 5, 14, 23 of any month may be lucky.
Pranayama, deep breathing exercises coupled with a consistent and a reasonable lifestyle, may work wonders for you.
Hope you have a wonderful year ahead , and you will make the best out of what the year has to offer for you.